In and Out of the Forest: Decentralisation and Recentralisation of Forest Governance in East Kalimantan, Indonesia
Keywords:
Decentralisation, East Kalimantan, Forest Governance, Indonesia, Local Livelihoods
Abstract
The 'big bang' decentralisation reforms Indonesia embarked upon in 2001 went along with a decentralisation of the forestry sector. Hopes were high that this would improve local development and contribute to more sustainable forest management. However, undesired outcomes of decentralisation have been counteracted by an immediate effort to recentralise forest governance. In this paper, we address the question what actual impact both de- and recentralisation of forest governance had on the livelihoods of local communities in East Kalimantan. Our findings are based on field studies conducted in two villages using ethnographic methods. We show that under decentralised forest governance, unclear functional competences and overlapping authorities of the central and local governments triggered a logging boom that increased inter- and intra-village conflicts, exacerbating inequality, and leading to further deforestation. On the other hand, the recentralisation of the forestry sector and the increased central state control of illegal logging deprived villagers of lucrative income sources without offering adequate alternatives, while ending therewith associated conflicts. Our case studies thus show that de- and recentralisation had both positive and negative effects on a local level. However, we argue that continual decentralisation eff orts would be more promising for the improvement of local communities in East Kalimantan.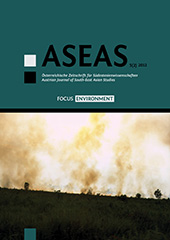 Downloads
How to Cite
Bullinger, C., & Haug, M. (2012). In and Out of the Forest: Decentralisation and Recentralisation of Forest Governance in East Kalimantan, Indonesia. Austrian Journal of South-East Asian Studies, 5(2), 243–262. https://doi.org/10.14764/10.ASEAS-5.2-4
Section
Current Research on Southeast Asia