Turning Red Rural Landscapes Yellow? Sufficiency Economy and Royal Projects in the Hills of Nan Province, Northern Thailand
Keywords:
Lua People, Northern Thailand, Royal Projects, Sufficiency Economy, Thai Politics
Abstract
This paper discusses the efforts of the royal family to moralise the environmental behaviour of their subjects in the name of the Sufficiency Economy philosophy solicited by King Bhumibol since the 1990s in Thailand. Drawing on ethnographic fieldwork conducted in Nan province, Northern Thailand, in 2008 and 2009, I focus particularly on Royal Projects recently promoted to correct the rural practices of the ethnic minority groups living in the hills of Nan. In the past, many of these ethnic groups took part in the Maoist insurgency while at present, they represent a key basin of supporters for the reformist Red Shirts movement which is currently threatening the role of the monarchy in Thai politics. The research suggests that the recently increased trend of staging new projects for sustainable agro-forestry management in a 'red' area as Nan does not only aim at improving the conditions of mountain peoples and of the environment, but simultaneously increases the political influence of the conservative forces over this 'ungovernable' territory in times of political crisis.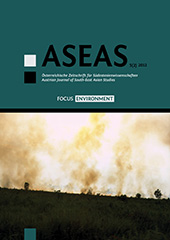 Downloads
How to Cite
Rossi, A. (2012). Turning Red Rural Landscapes Yellow? Sufficiency Economy and Royal Projects in the Hills of Nan Province, Northern Thailand. Austrian Journal of South-East Asian Studies, 5(2), 275–291. https://doi.org/10.14764/10.ASEAS-5.2-6
Section
Current Research on Southeast Asia