Transborder Environmental Justice in Regional Energy Trade in Mainland South-East Asia
Keywords:
Energy Trade, Laos, Myanmar, Thailand, Transborder Environmental Justice
Abstract
Thailand is mainland South-East Asia's largest energy consumer. Since the early 1990s, community and civil society opposition to new domestic large-scale power projects has strengthened within Thailand. Partly in response and facilitated by deepening regional economic integration, Thailand's electricity utility, private sector energy, and construction companies have increasingly looked towards neighbouring Laos and Myanmar to supply Thailand's energy markets. This paper assesses the political economy of Thailand's power sector development through the lens of distributive and procedural environmental justice, including the role of social movements and civil society in Thailand in reforming the country's power planning process. The environmental and social costs of domestic power projects and power import projects are discussed. The author concludes that Thailand's existing energy imports from hydropower projects in Laos and a gas project in Myanmar have exported environmental injustice associated with energy production across borders, exploiting the comparatively weak rule of law, judicial systems, and civil and political freedoms in these neighbouring countries.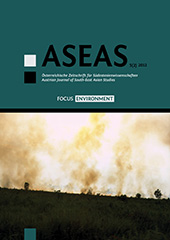 Downloads
Section
Current Research on Southeast Asia
License
Copyright (c) 2015 SEAS – the Society of South-East Asian Studies
This work is licensed under a Creative Commons Attribution-NonCommercial-NoDerivatives 3.0 Unported License.
For all articles published in ASEAS before December 2014 and after July 2022, copyright is retained by the authors. For articles published between January 2015 and June 2022, the Society for South-East Asian Studies (SEAS) is the copyright holder. Articles published in ASEAS before December 2019 are licensed under the following Creative Commons License: Attribution-NonCommercial-NoDerivs 3.0 Unported.  Articles published after that date are licensed under the following Creative Commons License: Attribution-NonCommercial-NoDerivs 4.0 International. In both cases, this means that everybody is free to share (to copy, to distribute, and to transmit the work) under the following conditions:
Attribution — You must give appropriate credit, provide a link to the license, and indicate if changes were made. You may do so in any reasonable manner, but not in any way that suggests the licensor endorses you or your use.

NonCommercial — You may not use the material for commercial purposes.

NoDerivatives — If you remix, transform, or build upon the material, you may not distribute the modified material.