Transborder Environmental Justice in Regional Energy Trade in Mainland South-East Asia
Keywords:
Energy Trade, Laos, Myanmar, Thailand, Transborder Environmental Justice
Abstract
Thailand is mainland South-East Asia's largest energy consumer. Since the early 1990s, community and civil society opposition to new domestic large-scale power projects has strengthened within Thailand. Partly in response and facilitated by deepening regional economic integration, Thailand's electricity utility, private sector energy, and construction companies have increasingly looked towards neighbouring Laos and Myanmar to supply Thailand's energy markets. This paper assesses the political economy of Thailand's power sector development through the lens of distributive and procedural environmental justice, including the role of social movements and civil society in Thailand in reforming the country's power planning process. The environmental and social costs of domestic power projects and power import projects are discussed. The author concludes that Thailand's existing energy imports from hydropower projects in Laos and a gas project in Myanmar have exported environmental injustice associated with energy production across borders, exploiting the comparatively weak rule of law, judicial systems, and civil and political freedoms in these neighbouring countries.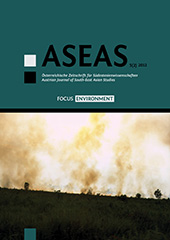 Downloads
How to Cite
Middleton, C. (2012). Transborder Environmental Justice in Regional Energy Trade in Mainland South-East Asia. Austrian Journal of South-East Asian Studies, 5(2), 292–315. https://doi.org/10.14764/10.ASEAS-5.2-7
Section
Current Research on Southeast Asia