Carbon Markets and REDD in South-East Asia: An Interview with Chris Lang from REDD-Monitor
Abstract
Chris Lang is a climate justice activist and currently runs REDD-Monitor, a website that follows projects and developments around REDD (www.redd-monitor.org). The acronym REDD refers to Reducing Emissions from Deforestation and Forest Degradation and is a UN programme that aims to offer incentives for countries in the Global South to reduce emissions from deforestation by creating financial values for the forest carbon stocks. In this interview, Lang talks about structural shortcomings of REDD and the danger of carbon cowboys, provides an insight in the 1 billion dollar agreement
between Norway and Indonesia, and discusses the relation between REDD and indigenous peoples' rights.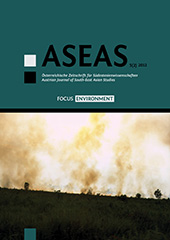 How to Cite
Pye, O. (2012) "Carbon Markets and REDD in South-East Asia: An Interview with Chris Lang from REDD-Monitor", Austrian Journal of South-East Asian Studies, 5(2), pp. 352-358. doi: 10.14764/10.ASEAS-5.2-11.