Translating Thailand's Protests: An Analysis of Red Shirt Rhetoric
Keywords:
Protest, Red Shirts, Social Movement, Thailand, Thai Political Crisis
Abstract
From 14 March 2010 onwards, a mass of suea daeng, literally 'red shirts', began a prolonged, mass protest in Bangkok, which eventually degenerated into the worst political violence Thailand has seen in its modern history, leaving 91 people dead, around 2,000 injured, and a city smoldering from rioting and arson. This article provides a narrative of the protests and the Red Shirt movement which is informed by my own eye-witness account of the events and built around the translation of Thai language sources I encountered. By translating and analyzing original Thai language sources from the protests, e.g. banners, signs, t-shirts, speeches, and graffi ti, I argue that the Red Shirts have a more sophisticated, far-reaching political philosophy than many give them credit for. Also, as events unfolded, the movement developed and grew beyond its original scope by demanding justice for victims of the military crackdowns and challenging the political role of the monarchy. Both as a political movement and as a sizeable section of the electorate, the Red Shirts have the potential to drastically reconfi gure Thailand's social and political landscape.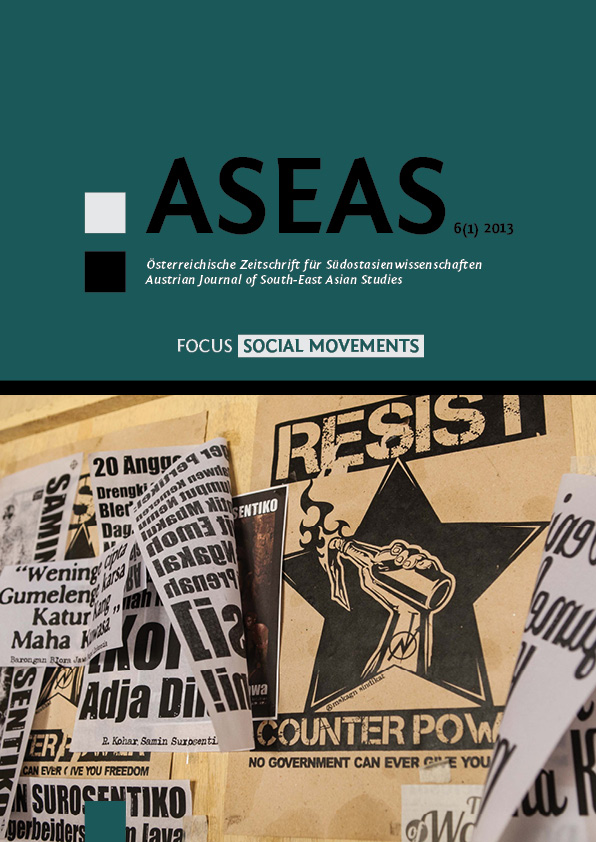 Downloads
Section
Current Research on Southeast Asia
License
Copyright (c) 2015 SEAS – the Society of South-East Asian Studies
This work is licensed under a Creative Commons Attribution-NonCommercial-NoDerivatives 3.0 Unported License.
For all articles published in ASEAS before December 2014 and after July 2022, copyright is retained by the authors. For articles published between January 2015 and June 2022, the Society for South-East Asian Studies (SEAS) is the copyright holder. Articles published in ASEAS before December 2019 are licensed under the following Creative Commons License: Attribution-NonCommercial-NoDerivs 3.0 Unported.  Articles published after that date are licensed under the following Creative Commons License: Attribution-NonCommercial-NoDerivs 4.0 International. In both cases, this means that everybody is free to share (to copy, to distribute, and to transmit the work) under the following conditions:
Attribution — You must give appropriate credit, provide a link to the license, and indicate if changes were made. You may do so in any reasonable manner, but not in any way that suggests the licensor endorses you or your use.

NonCommercial — You may not use the material for commercial purposes.

NoDerivatives — If you remix, transform, or build upon the material, you may not distribute the modified material.