Kontinuitäten im Wandel: Handlungskoordinationen von Frauenrechtsaktivistinnen in Aceh
Keywords:
Aceh, Frauenrechte, Gender, Islam, Biografie
Abstract
Muslimische Aktivistinnen nehmen in Aceh eine wichtige Rolle ein, indem sie soziale und politische Missstände zu beseitigen versuchen und Frauenrechte fördern. Im Aushandlungsprozess ihrer Visionen eines neuen Acehs positionieren sie sich zwischen ihrer persönlichen islamischen Religiosität und acehischen Identität sowie zwischen dem Nationalstaat und internationalen Konventionen. Die Frage nach den Erfahrungen und Einfl ussfaktoren, die Motive, Ziele, Strategien und Umsetzung frauenrechtlicher Arbeit von Aktivistinnen in Aceh bedingen, steht im Mittelpunkt dieses Artikels. Basierend auf einer 11-monatigen ethnologischen Feldforschung und biographischen Interviews in Aceh, argumentiert die Autorin, dass muslimische Aktivistinnen ihre frauenfördernde Arbeit nicht mit eigenen Erfahrungen der Benachteiligung durch patriarchale Strukturen begründen, sondern die anfängliche Triebfeder in der Betroff enheit, Empathie und Solidarität mit physisch und psychisch versehrten weiblichen Kriegsopfern sehen. Nach steigender Institutionalisierung und Kommerzialisierung von Wiederaufbau- und Entwicklungshilfe nach dem Tsunami 2004 empfinden Aktivistinnen hohe Diskrepanzen zwischen den Zielen der GeldgeberInnen und lokalen Organisationen und plädieren für eine Rückbesinnung auf die Bedürfnisse von Frauen an der Basis.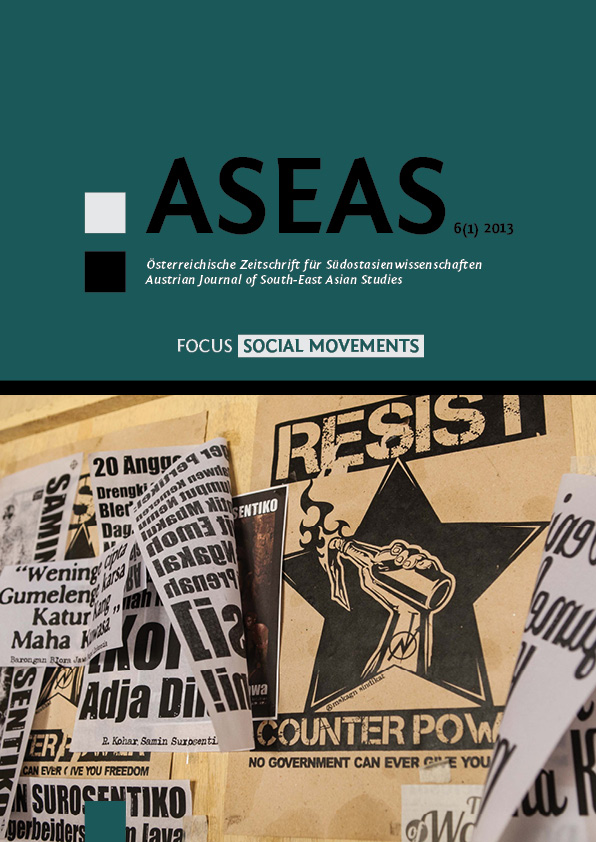 Downloads
Section
Current Research on Southeast Asia
License
Copyright (c) 2015 SEAS – the Society of South-East Asian Studies
This work is licensed under a Creative Commons Attribution-NonCommercial-NoDerivatives 3.0 Unported License.
For all articles published in ASEAS before December 2014 and after July 2022, copyright is retained by the authors. For articles published between January 2015 and June 2022, the Society for South-East Asian Studies (SEAS) is the copyright holder. Articles published in ASEAS before December 2019 are licensed under the following Creative Commons License: Attribution-NonCommercial-NoDerivs 3.0 Unported.  Articles published after that date are licensed under the following Creative Commons License: Attribution-NonCommercial-NoDerivs 4.0 International. In both cases, this means that everybody is free to share (to copy, to distribute, and to transmit the work) under the following conditions:
Attribution — You must give appropriate credit, provide a link to the license, and indicate if changes were made. You may do so in any reasonable manner, but not in any way that suggests the licensor endorses you or your use.

NonCommercial — You may not use the material for commercial purposes.

NoDerivatives — If you remix, transform, or build upon the material, you may not distribute the modified material.