Migration as a Strategy for Maintaining a Middle-Class Identity: The Case of Professional Filipino Women in Melbourne
Keywords:
Australia, Gender, Lifestyle, Philippines, Skilled Migration
Abstract
This paper surveys the diverse motives of professional Filipino immigrant women in Melbourne, Australia. In-depth interviews of 20 women reveal that their mosaic of motives challenges the traditional notion of economic advancement framed within the household theory, or ideas of purely individualistic pursuits. Their movements were facilitated through the intersection of established families and social networks in Australia, and the possession of skills required by the immigration department, defying the mail order bride stereotype that was projected on almost all Filipino women in the 1980s. It is argued that migration provided a bridge to more liberating quality of life, enabling them either to recover their declining middle-class status in the Philippines or to explore an alternative lifestyle in the new context.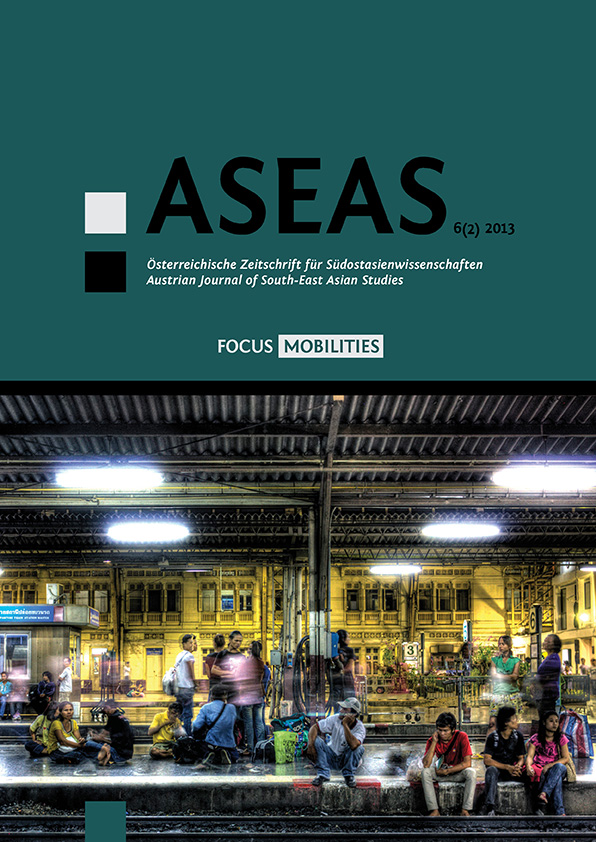 Downloads
How to Cite
Limpangog, C. (2013). Migration as a Strategy for Maintaining a Middle-Class Identity: The Case of Professional Filipino Women in Melbourne. Austrian Journal of South-East Asian Studies, 6(2), 307–329. https://doi.org/10.14764/10.ASEAS-6.2-5
Section
Current Research on Southeast Asia