Mass Surveillance and the Militarization of Cyberspace in Post-Coup Thailand
Keywords:
Cyber Dystopia, Cyber Witch Hunt, Mass Surveillance, Militarization of Cyberspace, Thailand
Abstract
Post-coup Thailand has witnessed a troubling shift toward censorship, surveillance, and suppression in cyberspace. With cyber security ranking prominently on the military's agenda and the expansion of the military's cyber intervention, the country's online infrastructure has undergone politicization, securitization, and militarization. This paper argues that the militarization of cyberspace in Thailand represents the process in which cyber warfare capabilities have been integrated with other military forces and with support from the masses. This process has been effective through at least three significant mechanisms, including mass surveillance, surveillance by the masses, and normalization of surveillance. Social media have been turned into an absolute digital panopticon. Cyber dystopia, created by the 2014 coup and supported by the masses, has served to sustain a 'state of exception' not only within the territorial borders of the state, but also more importantly, within the virtual space of civil society. Cyber surveillance by the military and the masses has continued to jeopardize the already vulnerable Thai democracy.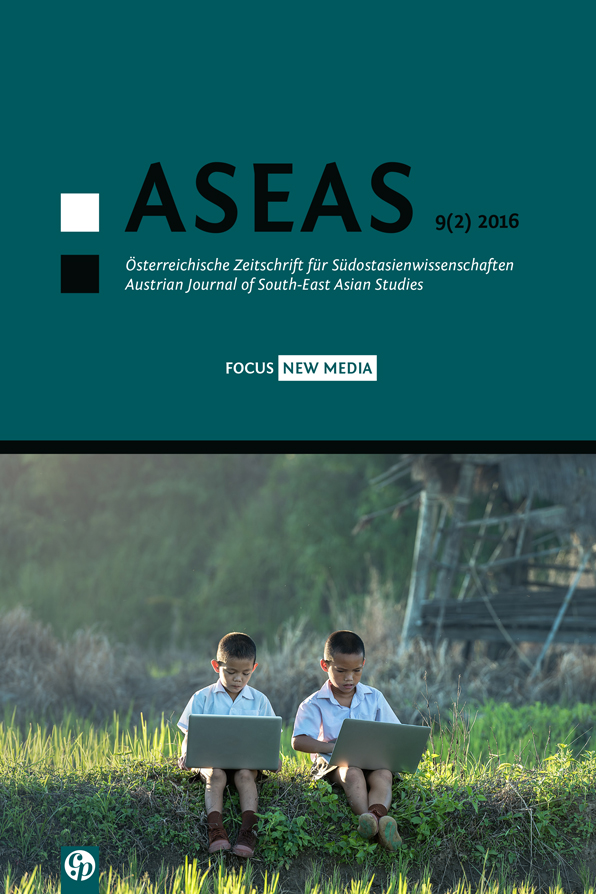 Downloads
Section
Current Research on Southeast Asia
License
Copyright (c) 2016 SEAS – the Society of South-East Asian Studies
This work is licensed under a Creative Commons Attribution-NonCommercial-NoDerivatives 3.0 Unported License.
For all articles published in ASEAS before December 2014 and after July 2022, copyright is retained by the authors. For articles published between January 2015 and June 2022, the Society for South-East Asian Studies (SEAS) is the copyright holder. Articles published in ASEAS before December 2019 are licensed under the following Creative Commons License: Attribution-NonCommercial-NoDerivs 3.0 Unported.  Articles published after that date are licensed under the following Creative Commons License: Attribution-NonCommercial-NoDerivs 4.0 International. In both cases, this means that everybody is free to share (to copy, to distribute, and to transmit the work) under the following conditions:
Attribution — You must give appropriate credit, provide a link to the license, and indicate if changes were made. You may do so in any reasonable manner, but not in any way that suggests the licensor endorses you or your use.

NonCommercial — You may not use the material for commercial purposes.

NoDerivatives — If you remix, transform, or build upon the material, you may not distribute the modified material.