Changing Media Ecologies in Thailand: Women's Online Participation in the 2013/2014 Bangkok Protests
Keywords:
Bangkok Protests, Digital Activism, Media Ecologies, Participatory Politics, Yingluck Shinawatra
Abstract
Traditionally marginalized groups now have more access to new and unconventional means to participate in politics, transforming the media ecologies of existing political environments. Contemporary feminist scholarship has centered on how women use new media technologies to serve political agendas. However, this literature focuses predominately on women in the West, while women in developing countries, or Asia more generally, have been largely excluded from analysis. This article aims to fill in this gap by examining Thai women's online activities during the 2013/2014 Bangkok political protests. Specifically, we ask how the rise of social and digital media has altered what it means to participate politically in the context of Thai women's present-day political experience. To answer this question we looked at how women resorted to various digital and social media to discuss women's rights and political issues, including Yingluck Shinawatra's political leadership as Thailand's first female prime minister (2011-2014). Moving beyond traditional notions of participation, we argue that there is a need to recognize the emerging dynamics of women's online engagement in the political landscape of Thailand. In the context of a totalitarian state, speaking out against the ruling authority online embodies an additional layer of citizen resistance, a feature of digital life that is often taken for granted in Western democracies.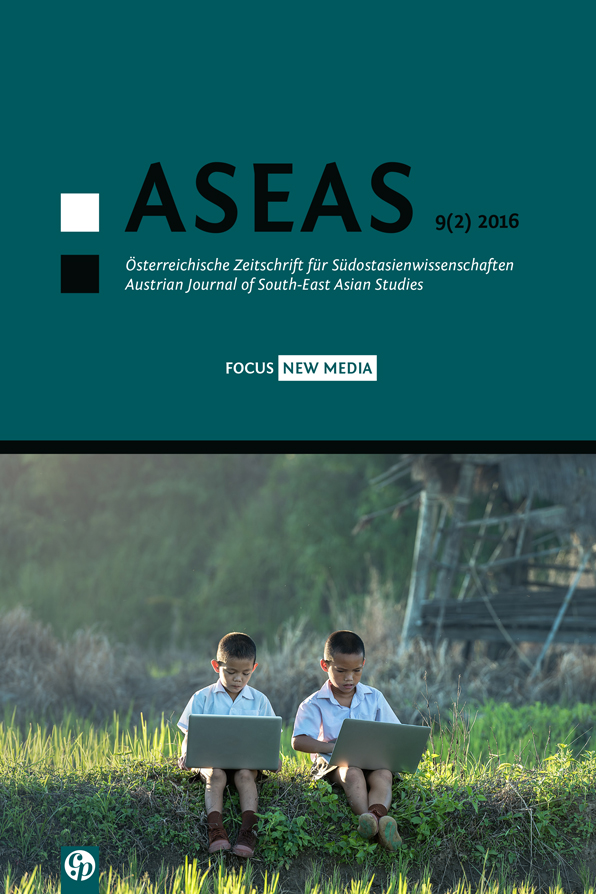 Downloads
How to Cite
Guntarik, O., & Trott, V. (2016). Changing Media Ecologies in Thailand: Women's Online Participation in the 2013/2014 Bangkok Protests. Austrian Journal of South-East Asian Studies, 9(2), 235–252. https://doi.org/10.14764/10.ASEAS-2016.2-4
Section
Current Research on Southeast Asia