Men, Women, and Environmental Change in Indonesia: The Gendered Face of Development Among the Dayak Benuaq
Keywords:
Development, Environmental Change, Gender, Indigenous Peoples, Kalimantan
Abstract
The increasing penetration of global capitalism, ambitious development efforts, and related environmental change have significantly transformed Kalimantan and its indigenous population, commonly referred to as Dayak, during the last decades. This article analyzes these processes from a gendered perspective and explores how gender relations among the Dayak, who generally are characterized by well-balanced gender relations, have been influenced by what is commonly referred to as 'development'. A review of the existing literature shows that new asymmetries between men and women are emerging mainly due to different ways of inclusion in new economic systems. Based on research among the Dayak Benuaq, the article shows that far-reaching gender equality has been so far upheld within Benuaq society while gender gets interwoven with an increasing variety of inequalities. I argue that in order to capture this complexity, research on the gendered impacts of development should a) aim for a better understanding of the intertwinement of gender with other aspects, such as ethnicity, class, age, or education, b) pay more attention to how these aspects play out in different contexts, and c) differentiate more clearly between gender ideals, norms, and actual practice.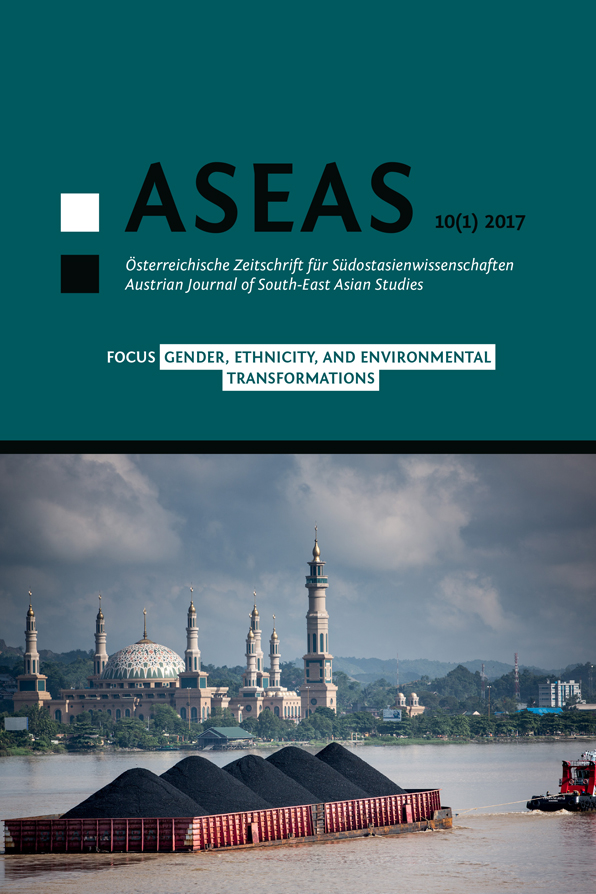 Downloads
Section
Current Research on Southeast Asia
License
Copyright (c) 2017 SEAS – the Society of South-East Asian Studies
This work is licensed under a Creative Commons Attribution-NonCommercial-NoDerivatives 3.0 Unported License.
For all articles published in ASEAS before December 2014 and after July 2022, copyright is retained by the authors. For articles published between January 2015 and June 2022, the Society for South-East Asian Studies (SEAS) is the copyright holder. Articles published in ASEAS before December 2019 are licensed under the following Creative Commons License: Attribution-NonCommercial-NoDerivs 3.0 Unported.  Articles published after that date are licensed under the following Creative Commons License: Attribution-NonCommercial-NoDerivs 4.0 International. In both cases, this means that everybody is free to share (to copy, to distribute, and to transmit the work) under the following conditions:
Attribution — You must give appropriate credit, provide a link to the license, and indicate if changes were made. You may do so in any reasonable manner, but not in any way that suggests the licensor endorses you or your use.

NonCommercial — You may not use the material for commercial purposes.

NoDerivatives — If you remix, transform, or build upon the material, you may not distribute the modified material.