Ethics and the Role of Humanities in Transdisciplinary Research? A Short Reflection on the KNOTS Project
Keywords:
Cross-Cultural Awareness, Ethics, Humanities, Reflection, Transdisciplinarity
Abstract
In this paper, we reflect upon our role as researchers embedded in humanities in the KNOTS project. In the course of the project, we noticed various misapprehensions among both staff and students stemming, among others, form different cultural, political, and educational backgrounds. While a diversity of inputs and perspectives is considered an advantage for transdisciplinary projects, cooperation among actors with various backgrounds can also be challenging. Based on our observations and previous experience living and working in Vietnam, we created a session focusing on ethics for the last summer school in Ho Chi Minh City. We decided to bring participants' attention to research ethics and issues of cross-cultural communication, and suggested reflection and discussion as a coping strategy. In the course of a three years long mutual learning process, we realized that striving to create a common understanding of research ethics and cross-cultural awareness is an indispensable element of teaching and doing transdisciplinary research in a multicultural environment.
References
Berry, J., Poortinga, Y., & Pandey, J. (1997). Handbook of cross-cultural psychology. Boston, MA: Allyn and Bacon.
Dannecker, P. (2020). Transdisciplinarity 'meets' power structures: Challenges and experiences of a capac-ity building project on transdisciplinarity. Austrian Journal of South-East Asian Studies, 13(2), 175-192.
Dannecker, P., & Heis, A. (2020). 'Transdisciplinarity': A framework of knowledge production in north-south partnerships? Austrian Journal of South-East Asian Studies, 13(2), 165-174.
Hansen, A., Nielsen, K., & Wilhite, H. (2016). Staying cool, looking good, moving around: Consumption, sustainability and the 'rise of the South'. Forum for Development Studies, 43(1), 5-25.
Hitchings, R., & Shu Jun Lee. (2008). Air conditioning and the material culture of routine human encasement. Journal of Material Culture, 13(3), 251-265.
Jezewski, M. A. (1990). Culture brokering in migrant farmworker health care. Western Journal of Nursing Research, 12(4), 497-513.
KNOTS. (n.d.). Fostering multi-lateral knowledge networks of transdisciplinary studies to tackle globalchallenges. Retrieved from https://www.knots-eu.com
Palmer, J., Fam, D., Smith, T., & Kilham, S. (2014). Ethics in fieldwork: Reflections on the unexpected. Qualitative Report, 9, 1-13.
Seemann, F., & Antweiler, C. (2020). Linking European and Southeast Asian transdisciplinary knowledge pro-duction: Lessons learned by doing evaluation. Austrian Journal of Southeast Asian Studies, 13(2), 243-259.
Tran, T. (2018). Cultural differences in Vietnam: Differences in work-related values between Western and Vietnamese culture and cultural awareness at higher education. PhD dissertation, Leiden University, Netherlands.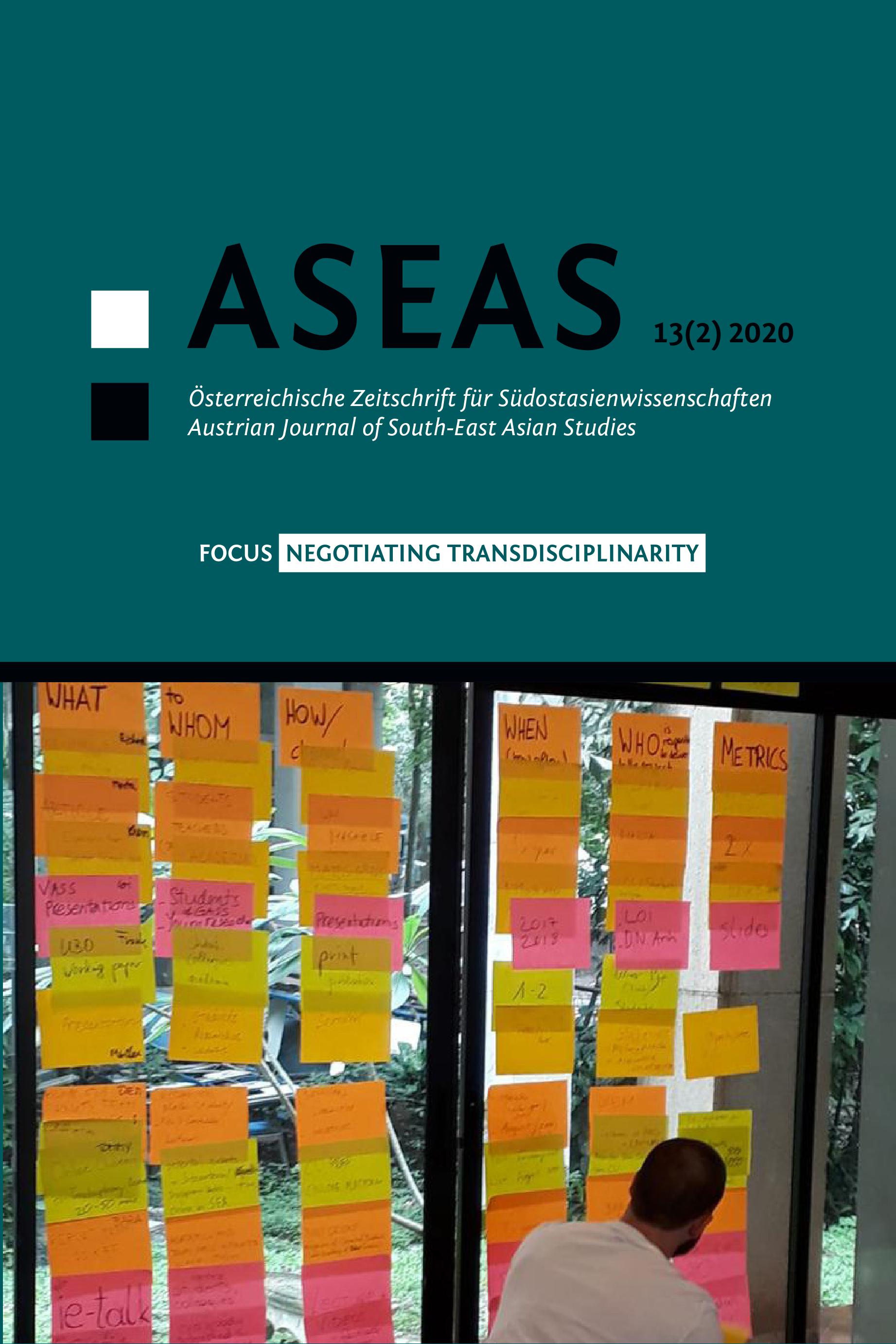 Downloads
How to Cite
Nováková, B., & Lopatková, M. (2020). Ethics and the Role of Humanities in Transdisciplinary Research? A Short Reflection on the KNOTS Project. Austrian Journal of South-East Asian Studies, 13(2), 261–266. https://doi.org/10.14764/10.ASEAS-0043
Section
Research Workshop