Transnational Intimacies and Marriages: Gender and Social Class Complexities in two Northeastern Thai Villages
Keywords:
Gender, Social Class, Thailand, Transnational Intimacy, Transnational Marriage
Abstract
Studies of transnational intimacies and marriages thus far reveal how these intimate relationships are simulated and constrained by global and local circumstances, cultures, ideas, and practices relating to gender, marriage, and family as well as class and ethnicity. This paper provides insights into the other side of the global process by exploring how these intimate relations generate tensions and challenge cultural ideas and practices regarding gender and social class at the 'local end' of the transnational connections. Drawn on three ethnographic studies in two northeastern Thai villages, my research argues that these marital relationships present a form of women's agency and bring new challenges to masculine identities and subjectivities, placing local men in vulnerable positions. Women with Western partners also constitute a new class determined by both their consumption and their lifestyle – which set them apart from other villagers – and their increased ownership of both farm and residential land. Thus, these women form a new class in both Bourdieusian and Marxist senses, although land in this case has less to do with production but rather wellbeing, security, and prosperity. In this light, transnational marriages/intimacies induce the reconfiguring of gender and class in women's natal villages. 
References
Andaya, B. W. (1998). From temporary wife to prostitute: Sexuality and economic change in early modern Southeast Asia. Journal of Women's History, 9(4), 11-34.
Angeles, L., & Sunanta. S. (2009). Demanding daughter duty: Gender, community and transnational marriages in Northeast Thailand. Critical Asian Studies, 41(4), 549–574.
Basch, L., Schiller, G. N., & Blanc C. Z. (2003). Nations unbound: Transnational projects, postcolonial predicaments, and deterritorialized nation-states. Routledge.
Bélanger, D., Linh, T. G., Duong, L. B., & Hong, K.T. (2014). From farmer's daughters to foreign wives: Marriage migration and gender in sending communities of Vietnam. In E. Ochiai (Ed.), Asian women and intimate work: The intimate and the public in Asian and global perspectives (pp. 192-216). International Research Center for Japanese Studies.
Bao, J. (1998). Same bed, different dreams: Intersections of ethnicity, gender, and sexuality among middle- and upper-class Chinese immigrants in Bangkok. Positions, 6(2), 475-502.
Bourdieu, P. (1984). Distinction: A social critique of the judgment of taste. Translated by Richard Nice. Routledge.
Brennan, D. (2004). What's love got to do with it? Transnational desires and sex tourism in the Dominican Republic. Duke University Press.
Butratana, K., & Trupp, A. (2020). Gender, class, and paradoxical mobilities of Thai marriage migrants in Austria. Singapore Journal of Tropical Geography, 42(1), 85-106.
Cabezas, A. L. (2009). Economics of desire: Sex and tourism in Cuba and the Dominican Republic. Temple University Press.
Cheng, S. (2010). On the move of love: Migrant entertainers and the US military in South Korea. University of Pennsylvania Press.
Cheng, Y. (2012). Transnational masculinities in Situ: Singaporean husbands and their international marriage experiences. Area, 44(1), 76-82.
Cheng Y., Yeoh, B. S. A., & Zhang, J. (2014). Still 'breadwinners' and 'providers': Singaporean husbands, money and masculinity in transnational marriage. Gender, Place and Culture, 22(6), 867-883.
Cohen, E. (2003). Transnational Marriage in Thailand: The Dynamics of Extreme Heterogamy. In T. G. Baure, & B. McKercher (Eds.), Sex and tourism: Journeys of romance, love, and lust (pp. 57-82). The Haworth Hospitality Press.
Cohen, E. (1996). Thai tourism: Hill tribes, islands and open-ended prostitution. White Lotus Press.
Connell, R. W. (1995). Masculinities. University of California Press.
Connell, R. W., & Masserschmidt, J. W. (2005). Hegemonic masculinity: Rethinking the concept. Gender and Society, 19(6), 829-859.
Constable, Nicole, (Ed.). (2011). Cross-Border marriages: Gender and mobility in transnational Asia. University of Pennsylvania Press.
Dahles, H. (2009). Romance and sex tourism. In M. Hitchcock, V. T. King & M. Parnwell (Eds.), Tourism in Southeast Asia: Challenges and new directions (pp. 222-235). NIAS Press.
Enloe, C. (2000). Bananas, beaches and bases. University of California Press.
Faier, L. (2009). Intimate encounters: Filipina women and the remaking in rural Japan. University of California Press.
Ford, M. & Lyons, L. (2012). Introduction: Men and masculinities in Southeast Asia. In Michele
Ford & Lenore Lyons (Eds.), Men and masculinities in Southeast Asia (pp. 1-19). Routledge.
Fresnoza-Flot, A. (2017). Gender-and social class-bases transnationalism of migrant Filipinas in binational unions. Journal of Ethnic and Migration Studies, 43(6), 885-901.
Garrick, D. (2005). Excuses, excuses: Rationalisations of Western sex tourists in Thailand. Current Issues in Tourism, 8(6), 497-509.
Husa, K., Vielhaber, C., Jöstl, J., Veress, K., & Wieser, B. (2014). Searching for paradise? International retirement migration to Thailand – A case study of Hua Hin and Cha-am. Southeast Asian mobility transitions. Department of Geography and Regional Research, 19, 137-167.
Ishii, Sari K. (Ed.). (2016). Marriage migration in Asia: Emerging minorities at the frontiers of nation-states. National University of Singapore Press.
Jongwiliawan, R. & Thompson, E. C. (2013). Thai wives in Singapore and transnational patriarchy. Gender, Place & Culture 20(3): 363–381.
Kitiarsa, P. (2008). Thai migrants in Singapore: State, intimacy and desire. Gender, Place & Culture, (15)6, 595-610.
Lapanun, P. (2019). Love, money and obligation: Transnational marriage on a Northeastern Thai village. National University of Singapore Press.
Lapanun, P. (2018). Masculinity, marriage and migration: Farang migrant men in Thailand. Asian Journal of Social Science, 48(1), 111-113.
Lapanun, P., & Thompson, E. C. (2018a). Masculinity, matrilineality and transnational marriage. Journal of Mekong Societies, 14(2), 1-19.
Lapanun, P., & Thompson, E. C. (2018b). Masculinities, gender relations and transnational marriages. Faculties of Humanities and Social Sciences, Khon Kaen University (monograph, Thai language).
Lauser, A. (2008). Philippine women on the move: Marriage across borders. International Migration, 46(4), 85-110.
Maher, K. H., & Lafferty, M. (2014). White migrant masculinities in Thailand and the paradoxes of Western privilege. Social & Cultural Geography 15(4), 427–448.
Manderson, L., & Jolly, M. (1997). Sites of desire/economies of pleasure in Asia and the Pacific. In L. Manderson & M. Jolly (Eds.), Sites of desire, economies of pleasure: Sexuality in Asia and the Pacific (pp. 1-26). University of Chicago Press.
Mills, M. B. (1999). Thai women in the global labor force. Rutgers University Press.
Osella, C., & Osella, F. (2006). Men and masculinities in South India. Anthem Press.
Pananakhonsab, W. (2016). Love and intimacy in online cross-cultural relationships: The power of imagination. Palgrave Macmillan.
Parreñas, R. (2011). Illicit flirtations: Labor, migration, and sex trafficking in Tokyo. Stanford University Press.
Said, E. (1978). Orientalism. Vintage Books.
Scuzzarello, S. (2020). Practicing privilege. How settling in Thailand enables older Western migrants to enact privilege over local people. Journal of Ethnic and Migration Studies, 46(8), 1606-1628.
Spanger, M. (2013). Doing love in the borderland of transnational sex work: Female Thai migrants in Denmark. Nordic Journal of Feminist Gender Research, 21(2), 92-107.
Statham, P., Scuzzarello, S., Sunanta, S., & Trupp, A. (2021). Globalising Thailand through gendered 'both-ways' migration pathways with 'the West': Cross-border connections between people, states, and places. Journal of Ethnic and Migration Studies, 46(8), 1513–1542.
Statham, P. (2020). 'Unintended transnationalism': The challenging lives of Thai women who partner Western men. Population, Space and Place, 27(5), e2407.
Stoler, A. (1992). Sexual affronts and racial frontiers: European identities and the cultural politics of exclusion in colonial Southeast Asia. Comparative Study of Society and History, 34(3), 514-551.
Sunanta, S. (2013). Gendered nation and classed modernity: The perceptions of Mia Farang (foreigner's wives) in Thai society. In T. Bunnell, D. Parthasarathy, & E. C. Thompson (Eds.), Cleavage, connection and conflict in rural, urban and contemporary Asia (pp.183-199). Springer Asia Series 3.
Suppatkul, P. (2020). Intraethnic othering among Thai wives of white American men: An intersectionality approach. Journal of Mekong Societies, 16(3), 24-43.
Ten Brummelhuis, H. (1994). Merchant, courtier and diplomat: A history of the contacts between the Netherlands and Thailand. Uitgeversmaatschappij De Tijdstroom.
Thompson, E. C., Kitiarsa, P., & Smutkupt, S. (2016). From sex tourist to son-in-law: Emergent masculinities and transient subjectivities of farang men in Thailand. Current Anthropology, 57(1), 53-71.
Wright, E. O., (2005). Social Class. In G. Ritzer (Ed.), Encyclopedia of Social Theory, (pp 717-724). Sage Publications.
Zuo, J. (2004). Shifting the breadwinning boundary: The role of men's breadwinner status and their gender ideologies. Journal of Family Issues, 25(6), 881-832.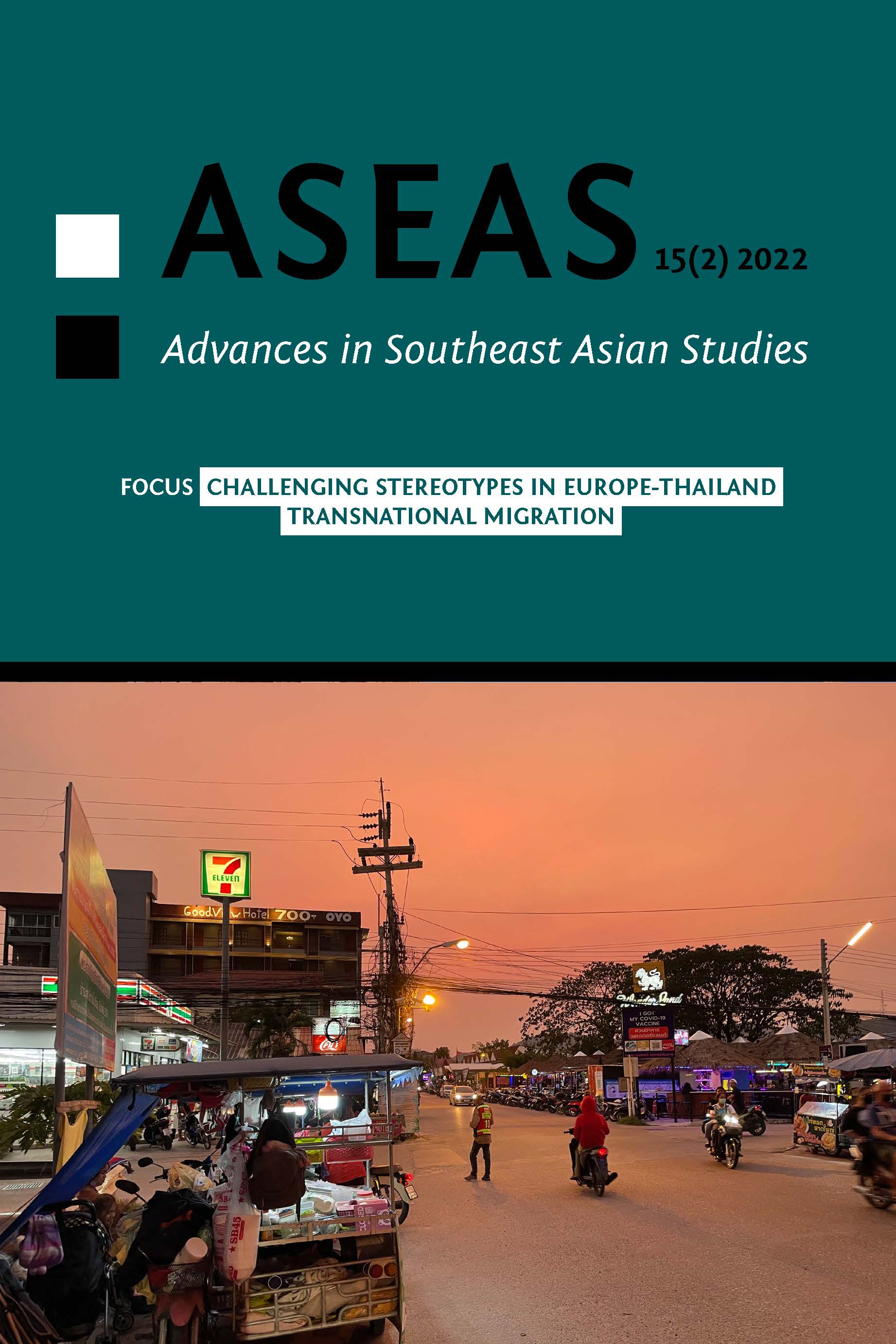 Downloads
Section
Current Research on Southeast Asia
License
Copyright (c) 2022 Patacharin Lapanun
This work is licensed under a Creative Commons Attribution-NonCommercial-NoDerivatives 4.0 International License.
For all articles published in ASEAS before December 2014 and after July 2022, copyright is retained by the authors. For articles published between January 2015 and June 2022, the Society for South-East Asian Studies (SEAS) is the copyright holder. Articles published in ASEAS before December 2019 are licensed under the following Creative Commons License: Attribution-NonCommercial-NoDerivs 3.0 Unported.  Articles published after that date are licensed under the following Creative Commons License: Attribution-NonCommercial-NoDerivs 4.0 International. In both cases, this means that everybody is free to share (to copy, to distribute, and to transmit the work) under the following conditions:
Attribution — You must give appropriate credit, provide a link to the license, and indicate if changes were made. You may do so in any reasonable manner, but not in any way that suggests the licensor endorses you or your use.

NonCommercial — You may not use the material for commercial purposes.

NoDerivatives — If you remix, transform, or build upon the material, you may not distribute the modified material.