Transgender Kathoey Socially Imagining Relationships with Western Men in Thailand: Aspirations for Gender Affirmation, Upward Social Mobility, and Family Acceptance
Keywords:
Cross-Border Relationships, Gender Affirmation, Kathoey, Thailand, Transgender
Abstract
This article studies the aspirations and experiences of kathoey (Thai male-to-female trans* people) from poor rural Isan in enduring cross-border relationships with Western men. Drawing from biographical life stories, we try to unpack the cultural script through which partnering a Western man is seen as a plausible pathway for a better kathoey life in Thailand. We study the opportunities such partnering presents for achieving goals of gender affirmation, social advancement, and re-gaining merit within family relations. In the face of significant discriminatory barriers, kathoey in our study managed to build lives that they saw as self-validating, materially successful, and significantly conferring gender recognition. They understood their relationships as socially and personally much more than access to financial resources and drew important sources of emotional support, especially for gender validation from them. Western men were seen as more dedicated to partnering, caring, and being publicly seen in social settings (including family), compared to Thai.
References
Angeles, L. C., & Sunanta, S. (2009). Demanding daughter duty: Gender, community, village transformation, and transnational marriages in northeast Thailand. Critical Asian Studies, 41(4), 549-574.
Constable, N. (Ed.). (2005). Cross-border marriages. Gender and mobility in transnational Asia. University of Pennsylvania Press.
Goffman, E. (1974). Frame analysis: An essay on the organization of experience. Harper and Row.
ILO/ Suriyasarn, B. (2014). Gender identity and sexual orientation in Thailand. ILO Country Office for Thailand, Cambodia and Lao People's Democratic Republic
Isaraporn, P. (2009). Thailand in Australian fiction. PhD dissertation, Department of English, University of Sydney.
Jackson, P.A. (1999). Tolerant but unaccepting: the myth of a Thai "gay paradise". In Jackson, P.A. and Cook, N. (Eds.) Gender and sexualities in modern Thailand (pp. 226-242). Silkworm Books
.Jackson, P.A. (2011). Capitalism, LGBT activism and Queer autonomy in Thailand. in Jackson, P.A. (ed.) Queer Bangkok.21st century markets, media, and rights (pp. 195-204). Silkworm Books.
Jongwilaiwan, R. & Thompson, E. (2013). Thai wives in Singapore and transnational patriarchy. Gender, Place and Culture, 20(3), 363–381
Keyes, C. (2014). Finding their voice. Northeastern villagers and the Thai State. Silkworm Books
Lapanun, P. (2012). It's not just about money: Transnational marriages of Isan women. Journal of Mekong Societies, 8(3), 1-28.
Lapanun, P. (2019). Love, money and obligation. Transnational marriage in a Northeastern Thai village. NUS Press.
Morris, R. 1994. Three sexes and four sexualities. Redressing the discourse on gender and sexuality in contemporary Thailand. Positions 2(1): 15-43
National Statistical Office. No date. Average monthly income per household by region and province: 2002 – 2019. statbbi.nso.go.th/staticreport/page/sector/en/08.aspx
Ocha, W. (2020). Gold rush abroad: The trajectory of Singapore-based Thai transsexual (male to female) sex workers in global sex tourism. Austrian Journal of South-East Asian Studies, 13(1), 123-141.
Pravattiyagul, J. (2021). Thai transgender women in Europe: Migration, gender and binational relation-ships. Asian and Pacific Migration Journal, 30(1), 79–101.
Sanders, D. (2002). "Some say Thailand is a gay paradise". In S. Clift, M. Luongo, and C. Callister (Eds.), Gay tourism: culture, identity and sex (pp. 42-62). Continuum.
Sevelius, J. (2013). Gender affirmation: A framework for conceptualizing risk behavior Among Transgender Women of Color. Sex Roles, 68, 675–689.
Statham, P., & Scuzzarello, S. (2021). Transgender Kathoey and gay men using tourist-zone scenes as 'social opportunities' for nonheteronormative living in Thailand, Gender, Place & Culture, DOI: 10.1080/0966369X.2021.1997937
Statham, P. (2020). Living the long-term consequences of Thai-Western marriage migration: the radical life-course transformations of women who partner older Westerners, Journal of Ethnic and Migration Studies, 46(8), 1562-1587.
Statham, P. (2021). 'Unintended transnationalism': The challenging lives of Thai women who partner Western men. Population, Space and Place 27(5), e2407. DOI: 10.1002/psp.2407
Statham, P., Scuzzarello, S., Sunanta, S., & Trupp, A. (2020). "Globalising Thailand through gendered 'both-ways' migration pathways with 'the West': cross-border connections between people, states, and places", Journal of Ethnic and Migration Studies, 46(8), 1513-1542.
Sunanta, S. (2020). Globalising the Thai 'high-touch' industry: exports of care and body work and gendered mobilities to and from Thailand. Journal of Ethnic and Migration Studies, 46(8),1543-1561.
ten Brummelhuis, H. (1999). Transformations of transgender: the case of Thai kathoey. In Jackson, P.A. & Sullivan, G. (Eds.) Ladyboys, tom boys, rent boys. Male and female homsexualities in contemporary Thailand (pp. 117-136). Silkworm Books.
USAID. (2014). Being LGBT in Asia: Thailand Country Report. Bangkok.
Winter, S. (2011). Transpeople (Khon kham-phet) in Thailand: transprejudice, exclusion, and the presump-tion of mental illness. In Jackson, P.A. (ed.), Queer Bangkok. 21st century markets, media, and rights (pp.251-267). Silkworm books.
Yang, W., & Lu, M. C (Eds). (2010). Asian cross-border marriage migration. Demographic Patterns and Social Issues. Amsterdam University Press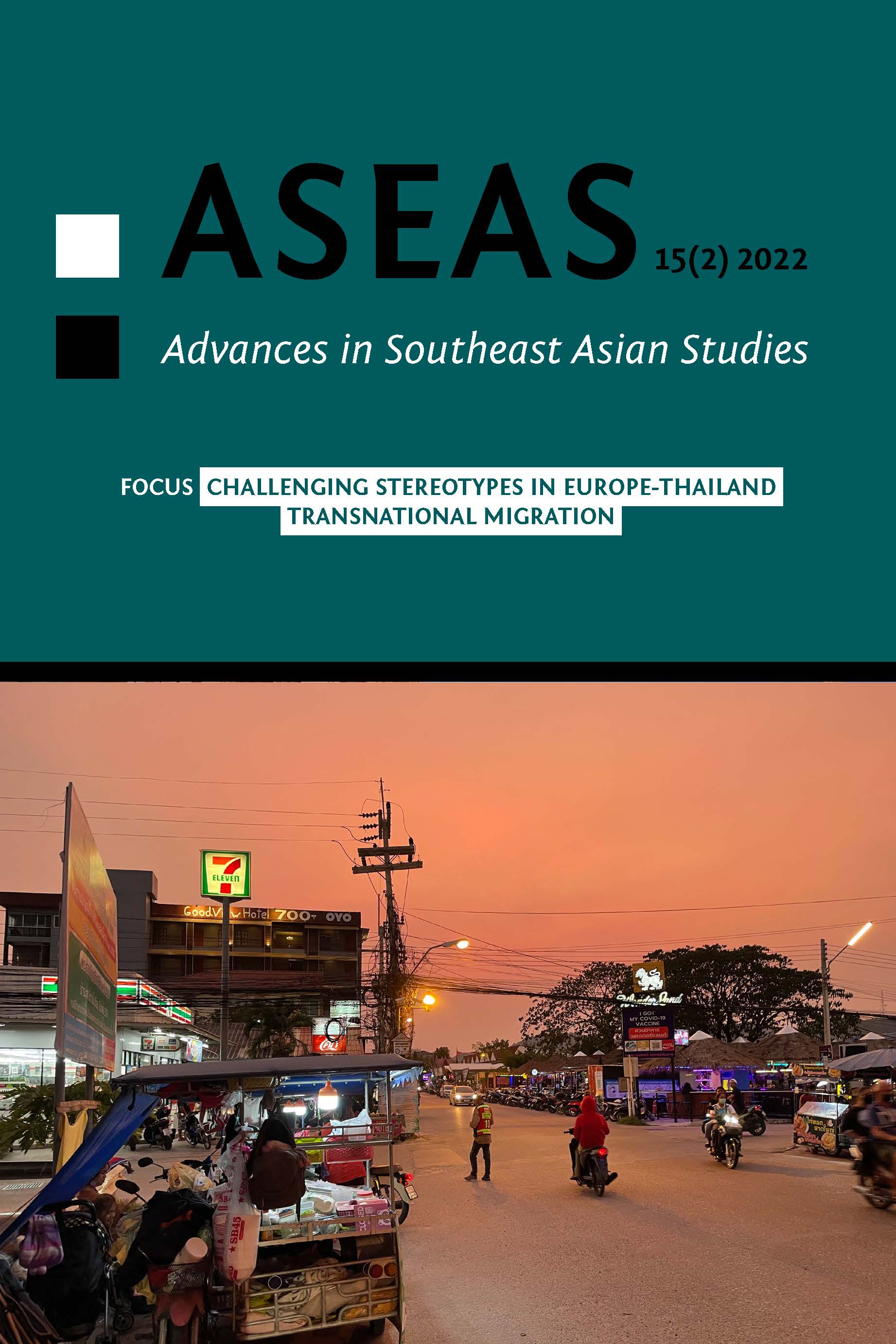 Downloads
Section
Current Research on Southeast Asia
License
Copyright (c) 2022 Sarah Scuzzarello, Paul Statham
This work is licensed under a Creative Commons Attribution-NonCommercial-NoDerivatives 4.0 International License.
For all articles published in ASEAS before December 2014 and after July 2022, copyright is retained by the authors. For articles published between January 2015 and June 2022, the Society for South-East Asian Studies (SEAS) is the copyright holder. Articles published in ASEAS before December 2019 are licensed under the following Creative Commons License: Attribution-NonCommercial-NoDerivs 3.0 Unported.  Articles published after that date are licensed under the following Creative Commons License: Attribution-NonCommercial-NoDerivs 4.0 International. In both cases, this means that everybody is free to share (to copy, to distribute, and to transmit the work) under the following conditions:
Attribution — You must give appropriate credit, provide a link to the license, and indicate if changes were made. You may do so in any reasonable manner, but not in any way that suggests the licensor endorses you or your use.

NonCommercial — You may not use the material for commercial purposes.

NoDerivatives — If you remix, transform, or build upon the material, you may not distribute the modified material.