Festivals and the Theory of Inclusive Development in Malaysia: Perspectives from a Festival Organizer
Keywords:
Festivals, Inclusive Development, Malaysia, Participation Typology, Salad Bowl Theory
Abstract
Festivals play a vital role in catalyzing inclusive development through their ability to in-crease social capital. They can enhance social ties through creating shared knowledge, building trust, and forming networks. In the Malaysian context, few studies have been done on how festivals promote inclusive development. Hence, this paper seeks to present a case study on Pangkor Island Festival (PIF), which is a Malaysian arts and culture festival, concerning the process, opportunities, and challenges of inclusive development from the perspectives of the festival organizer. In-depth interviews with the festival organizer and curator and field observations were conducted. Findings show that festivals promote inclusive development through a five-phase process, from establishing relationships with residents and exploring local assets to the sustainability of PIF and inclusive development. This study also suggests three-fold opportunities that include community cohesiveness, revitalization, and cultural value restoration as well as challenges of securing suitable stakeholders
References
Abdullah, M. S. (2021, July 25). Pangkor capai imuniti kelompok September ini [Pangkor to achieve herd immunity in September]. Utusan Malaysia. https://www.utusan.com.my/terkini/2021/07/pangkor-capai-imuniti-kelompok-september-ini/
Advani, A., & Reich, B. (2015). Melting pot or salad bowl: The formation of heterogeneous communities. IFS Working Paper W15/30. Institute for Fiscal Studies. https://ifs.org.uk/publications/melting-pot-or-salad-bowl-formation-heterogeneous-communities
Bakas, F. E., Duxbury, N., Remoaldo, P. C., & Matos, O. (2019). The social utility of small-scale art festivals with creative tourism in Portugal. International Journal of Event and Festival Management, 10(3), 248-266.
Berray, M. (2019). A critical literary review of the Melting Pot and Salad Bowl assimilation and integration theories. Journal of Ethnic and Cultural Studies, 6(1), 142-151. Figure 1. Stage Performance by the Elderly Community in PIF 2019. (PIF organizer)
| ASEAS 15(2)Festivals and the Theory of Inclusive Development in Malaysia
Current Population Estimates, Malaysia, 2020. (July 15). Department of Statistics Malaysia. https://www.dosm.gov.my/v1/index.php?r=column/cthemeByCat&cat=155&bul_id=OVByWjg5YkQ3MWFZRTN5bDJiaEVhZz09&menu_id=L0pheU43NWJwRWVSZklWdzQ4TlhUUT09#:~:text=The%20growth%20rate%20of%20Citizens,to%2029.7%20million%20in%202020.&text=Overall%2C%20there%20were%20more%20males,and%2015.9%20million%20(females).
Finkel, R. (2010). "Dancing around the ring of fire": Social capital, tourism resistance, and gender dichoto-mies at Up Helly Aa in Lerwick, Shetland. Event Management, 14(4), 275-285.
Grappi, S., & Montanari, F. (2011). The role of social identification and hedonism in affecting tourist re-patronizing behaviours: The case of an Italian festival. Tourism Management, 32(5), 1128-1140.
Gupta, J., Pouw, N. R. M., & Ros-Tonen, M. A. F. (2015). Towards an elaborated theory of inclusive development. The European Journal of Development Research, 27(4), 541-559.
Gupta, J., & Vegelin, C. (2016). Sustainable development goals and inclusive development. International Environmental Agreements: Politics, Law and Economics, 16(3), 433-448.
Harberger, A. C. (1998). A vision of the growth process. The American Economic Review, 88(1), 1-32.
Ishak, M. S. (2010). Cultural and religious festivals: The Malaysian experience. Journal of Southeast Asian Studies, 15, 97-111.
Israel, B. A., Checkoway, B., Schulz, A., & Zimmerman, M. (1994). Health education and community empo-werment: Conceptualizing and measuring perceptions of individual, organizational, and community control. Health Education Quarterly, 21(2), 149-170.
Kwiatkowski, G., Oklevik, O., Hjalager, A.-M., & Maristuen, H. (2020). The assemblers of rural festivals: Organizers, visitors and locals. European Planning Studies, 28(2), 255-272.
McHenry, J. A. (2009). My art has a secret mission: The role of the arts in Australian rural, remote and indigenous communities. The International Journal of the Arts in Society: Annual Review, 4(1), 157-170.
McHenry, J. A. (2011). Rural empowerment through the arts: The role of the arts in civic and social participation in the Mid West region of Western Australia. Journal of Rural Studies, 27(3), 245-253.
Musavengane, R. (2019). Using the systemic-resilience thinking approach to enhance participatory collaborative management of natural resources in tribal communities: Toward inclusive land reform-led outdoor tourism. Journal of Outdoor Recreation and Tourism, 25, 45-56.
Ng, P. S. K., & Rahman, S. (2021). Conceptualising governance approach on stakeholders participation and collaboration in George Town Festival, Penang, Malaysia. IOP Conference Series: Earth and Environmental Science, 799, 012016. https://doi.org/10.1088/1755-1315/799/1/012016
Othman, S. S., Nayan, L. M., & Tiung, L. K. (2014). The elements of news construction model in Malaysia. Malaysian Journal of Media Studies 16(1), 53-62.
Pangkor Island Festival. (2022). Oriental Art and Cultural Center. http://www.oacc.my/pangkor-island-festival/
Richards, G., de Brito, M., & Wilks, L. (2013). Exploring the social impacts of events. Routledge.
Shuib, A., Edman, S., & Yaakub, F. (2013). Direct expenditure effects of the Rainforest World Music Festival 2009 in Santubong, Sarawak. International Journal of Business and Society, 14(2), 287-298.
Tan, W. H. (2010). Issues and challenges in island tourism development: The case of Pangkor Island. In K. Din & J. Mapjabil (Eds.), Tourism Research in Malaysia (pp. 179-195). Universiti Utara Malaysia Press.
Tanzizi, N. H. (2020, February 2). Dimensi baharu Pulau Pangkor [New dimensions of Pangkor Island].BH Online. https://www.bharian.com.my/hujung-minggu/kembara/2020/02/651844/dimensi-baharu-pulau-pangkor
Thompson, E. C. (2015). Rural transformation. In M. L. Weiss (Ed.), Routledge Handbook of Contemporary Malaysia (pp. 236-248). Routledge.
Ting, H., Mering, M. W., Adruce, S. A. Z., & Memon, M. A. (2017). Intention to attend the Rainforest World Music Festival: Local visitor perspectives. Tourism Culture & Communication, 17(2), 119-129.
Tosun, C. (1999). Towards a typology of community participation in the tourism development process. Anatolia, 10(2), 113-134.
Tosun, C. (2006). Expected nature of community participation in tourism development. Tourism Management, 27(3), 493-504.
van den Bergh, L. (2022). Little willies as community-building heritage: A bottom-up approach to the Euro-pean Capital of Culture initiative. Journal of European Studies. https://doi.org/10.1177/00472441221115570
Yan, Y., Dean, K., Feng, C.-C., Hue, G. T., Koh, K., Kong, L., Ong, C. W., Tay, A., Wang, Y., & Xue, Y. (2020). Chinese temple networks in Southeast Asia: A WebGIS Digital Humanities Platform for the collabora-tive study of the Chinese diaspora in Southeast Asia. Religions, 11(7), 334.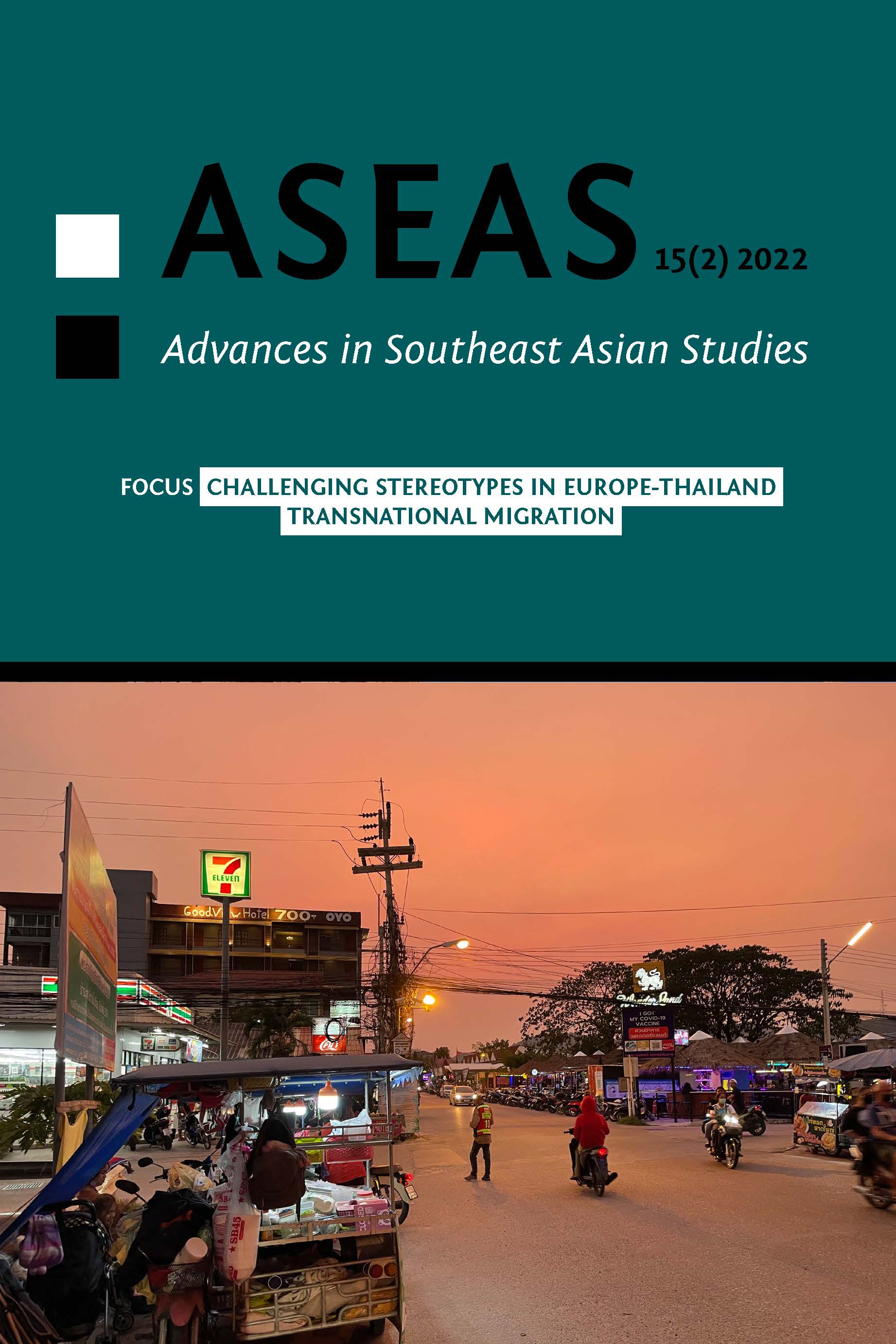 Downloads
Section
Research Workshop
License
Copyright (c) 2022 Yi Sheng Goh, Pek Yen Teh
This work is licensed under a Creative Commons Attribution-NonCommercial-NoDerivatives 4.0 International License.
For all articles published in ASEAS before December 2014 and after July 2022, copyright is retained by the authors. For articles published between January 2015 and June 2022, the Society for South-East Asian Studies (SEAS) is the copyright holder. Articles published in ASEAS before December 2019 are licensed under the following Creative Commons License: Attribution-NonCommercial-NoDerivs 3.0 Unported.  Articles published after that date are licensed under the following Creative Commons License: Attribution-NonCommercial-NoDerivs 4.0 International. In both cases, this means that everybody is free to share (to copy, to distribute, and to transmit the work) under the following conditions:
Attribution — You must give appropriate credit, provide a link to the license, and indicate if changes were made. You may do so in any reasonable manner, but not in any way that suggests the licensor endorses you or your use.

NonCommercial — You may not use the material for commercial purposes.

NoDerivatives — If you remix, transform, or build upon the material, you may not distribute the modified material.