Mobilizing the (Im)Mobile Museum Through Hybrid Curation: A Story of Hybrid Curation of Cultural Practice During the COVID-19 Pandemic
Keywords:
COVID-19 Pandemic, Good Health, Hybrid Curatorial Practice, Mobile Ethnography, Mobile Museum
Abstract
This narrative research report summarizes the experiences of Vivid Ethnicity, a mobile anthropological museum of the Museum of Cultural Anthropology at Mahidol University, Thailand, during the lockdowns caused by the COVID-19 pandemic in 2020-2022. Although Vivid Ethnicity was rendered immobile and forced to stop travelling during the pandemic, it developed a hybrid curatorial method to stay connected and engaged with its audiences and research partners in two ethnic villages in Chiang Mai province. A key lesson of this experience is that hands-on information and communication technologies can help maintain a certain proximity with the audiences and research partners in times of physical absence. We also learned that an empathetic mindset on the part of everyone involved in the project, along with a human-centric design, are crucial components of what we call the hybrid curation of cultural practice.
References
Bureua of Mental Health Service Administration. (2020). Announcement of Covid-19. https://mhso.dmh.go.th/fileupload/20211027925864550.pdf
Creswell, J. Poth, C. (2018). Qualitative inquiry and research design (4th ed.). Sage.
Department of Disease Control, Bureau of Risk Communication and Health Behavior Development.(2021). Thailand measurement for prevention and control Covid-19. https://ddc.moph.go.th/brc/news.php?news=16434&deptcode=brc
Kunstadter, P. (1966). Residential and social organization of the Lawa of Northern Thailand. Southwestern Journal of Anthropology, 22(1), 61-84.
Landry, L. (2020). What is human-center design ? Harvard Business School. https://online.hbs.edu/blog/post/what-is-human-centered-design
Ministry of Public Health. (2022). Coronavirus disease 2019 (COVID-19). https://media.thaigov.go.th/uploads/public_img/source/170665.pdf
Muskat, B., Muskat, M., & Zehrer, A. (2018). Qualitative interpretive mobile ethnography. Anatolia, 29(1), 98-107.
Roumani, N., & Both, T. (2020). Unlocking the power of design for the social sector. https://dschool.stanford.edu/news-events/unlocking-the-power-of-design-for-the-social-sector-a-human-centeredsystems-minded-and-strategy-aligned-design-approach-for-social-sector-leaders
Simon, N. (2010). The participatory museum. Museum 2.0, Santa Cruz, California.
The National Economic and Social Development Council. (2022). Socio-economic impact assessment of COVID-19 in Thailand. https://thailand.un.org/sites/default/files/2021-02/UN%20Thailand%20Socio-Economic%20Impact%20Assessment%20of%20Covid-19%20in%20Thailand-EN-low%20res.pdf
The Red Cross Society. (2021). D-M-H-T-T. https://redcross.or.th/news/information/12793/
World Bank Group. (2022). Thailand Economic Monitor. https://documents1.worldbank.org/curated/en/456171593190431246/pdf/Thailand-Economic-Monitor-Thailand-in-the-Time-of-COVID-19.pdf
Yamabhai, J., Knoop, R., & Cusripituck, P. (2021). Participatory engagement for sustainable innovation in Karen communities. Austrian Journal of South-East Asian Studies, 14(2), 195-212.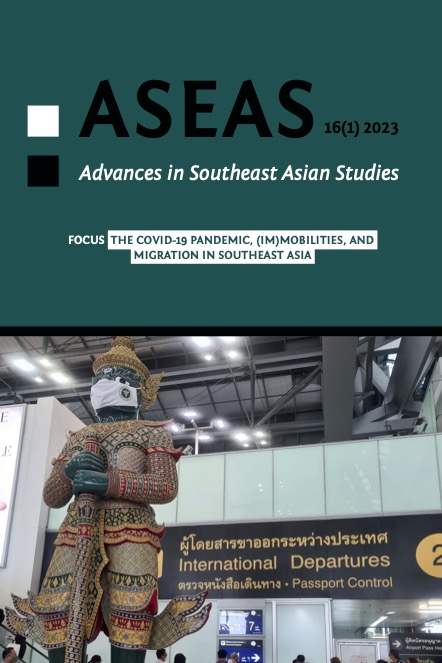 Downloads
Section
Research Workshop
License
Copyright (c) 2023 Patoo Cusripituck, Jitjayang Yamabhai
This work is licensed under a Creative Commons Attribution-NonCommercial-NoDerivatives 4.0 International License.
For all articles published in ASEAS before December 2014 and after July 2022, copyright is retained by the authors. For articles published between January 2015 and June 2022, the Society for South-East Asian Studies (SEAS) is the copyright holder. Articles published in ASEAS before December 2019 are licensed under the following Creative Commons License: Attribution-NonCommercial-NoDerivs 3.0 Unported.  Articles published after that date are licensed under the following Creative Commons License: Attribution-NonCommercial-NoDerivs 4.0 International. In both cases, this means that everybody is free to share (to copy, to distribute, and to transmit the work) under the following conditions:
Attribution — You must give appropriate credit, provide a link to the license, and indicate if changes were made. You may do so in any reasonable manner, but not in any way that suggests the licensor endorses you or your use.

NonCommercial — You may not use the material for commercial purposes.

NoDerivatives — If you remix, transform, or build upon the material, you may not distribute the modified material.