Imagining the Land of the Two Holy Mosques: The Social and Doctrinal Importance of Saudi Arabia in Indonesian Salafi Discourse
Keywords:
Indonesia, Religious Renewal, Salafism, Saudi Arabia, Social Imaginaries
Abstract
The emergence of Salafi Islam within Indonesia has shifted the imaginary boundaries of Islamic identity. Although relatively small in numbers, Salafis propagate a religious discourse linked to scholars in Saudi Arabia. While it cannot be regarded as merely a type of 'Saudization', the kingdom is frequently exemplified as a model for a pious society as well as pragmatic solutions on how to deal with contemporary issues ranging from justice to terrorism. Indeed, Saudi Arabia plays a pivotal part in the Salafi imaginary, balancing a historical Islamic past with a modernist religious present and future. Based on fieldwork conducted from 2011 to 2012 in Yogyakarta, this paper builds upon this premise, offering both a description and an analysis of the importance of the kingdom as a source of educational sponsorship but also, more interestingly, as a source of religious authority and social ideals, articulated within contemporary religious literature and the movement's study sessions (kajian). More pointedly, I argue that actors use Saudi Arabia to construct an imaginary ideal through which social and religious issues are contemplated and compared to apparent Indonesian 'social corruption'.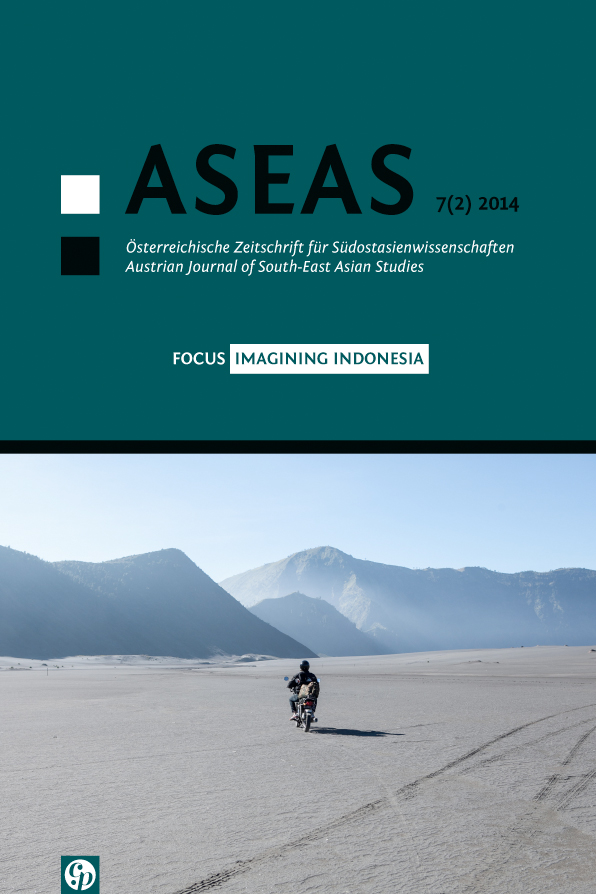 Downloads
How to Cite
Chaplin, C. (2014). Imagining the Land of the Two Holy Mosques: The Social and Doctrinal Importance of Saudi Arabia in Indonesian Salafi Discourse. Austrian Journal of South-East Asian Studies, 7(2), 217–236. https://doi.org/10.14764/10.ASEAS-2014.2-6
Section
Current Research on Southeast Asia