Where Peasants Are Kings: Food Sovereignty in the Tagbanua Traditional Subsistence System
Keywords:
Indigenous Peoples, Philippines, Poverty, Seed Sovereignty, Subsistence Farming, Swidden Agriculture
Abstract
Food sovereignty is predicated upon the rights of communities to determine culturally meaningful methods of agricultural cultivation in order to ensure the security of their diets and their lifeworld. The article provides an ethnographic study of two Tagbanua indigenous communities in the province of Palawan, Philippines, and analyzes the relation between swidden agriculture and food sovereignty. Traditional swidden farming is an integrative system that defines social relationships, structures a spiritual belief system, and builds a fundament of the Tagbanua identity. As a cultural praxis, it is also central to the manifestation of food sovereignty within the market system, constantly being challenged by internal exigencies – as opportunities for cultural reproduction are limited by changing lifestyles – and external interventions from both private and public sectors. The article discusses how the Tagbanua subsistence cultivation system serves as the main mechanism through which indigenous cultural communities assert their independence from the market system, thus establishing local control over food and food production systems.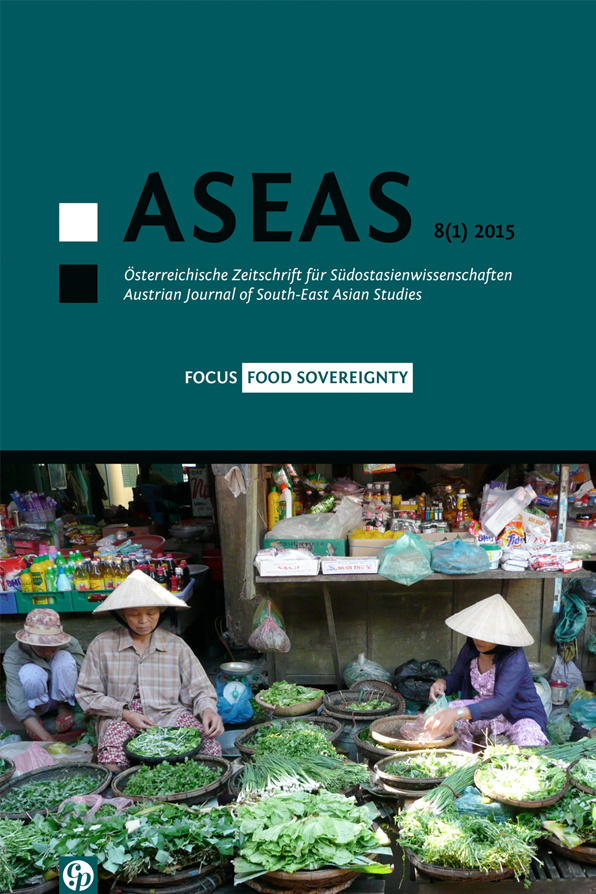 Downloads
Section
Current Research on Southeast Asia
License
Copyright (c) 2015 SEAS – the Society of South-East Asian Studies
This work is licensed under a Creative Commons Attribution-NonCommercial-NoDerivatives 3.0 Unported License.
For all articles published in ASEAS before December 2014 and after July 2022, copyright is retained by the authors. For articles published between January 2015 and June 2022, the Society for South-East Asian Studies (SEAS) is the copyright holder. Articles published in ASEAS before December 2019 are licensed under the following Creative Commons License: Attribution-NonCommercial-NoDerivs 3.0 Unported.  Articles published after that date are licensed under the following Creative Commons License: Attribution-NonCommercial-NoDerivs 4.0 International. In both cases, this means that everybody is free to share (to copy, to distribute, and to transmit the work) under the following conditions:
Attribution — You must give appropriate credit, provide a link to the license, and indicate if changes were made. You may do so in any reasonable manner, but not in any way that suggests the licensor endorses you or your use.

NonCommercial — You may not use the material for commercial purposes.

NoDerivatives — If you remix, transform, or build upon the material, you may not distribute the modified material.