Urban Brokers of Rural Cuisine: Assembling National Cuisine at Cambodian Soup-Pot Restaurants
Keywords:
Cambodia, Food, National Cuisine, Nutrition, Urbanization
Abstract
Pre-prepared food venues (or soup-pot restaurants) in Cambodia and other Asian countries make their decisions about what to cook in a complex food–society nexus, factoring in their culinary skill, seasonality of ingredients, and diners' expectations for variety. As such, soup-pot restaurants exist as tenuous brokers between rural food customs and the prevailing expectations of city dwellers. In urban areas, they are a transparent window into seasonality and market cycles, as well as an opportunity to encounter culinary diversity and participate in the consolidation of an everyday 'national cuisine'. Soup-pot restaurants, in contrast to other restaurant formats, craft an experience that balances the agricultural and social dynamics of rural eating customs with city comforts. Typically, soup-pot restaurants can accomplish this while also serving as a space of dietary learning, providing meals that are culturally understood to be balanced and nutritious, and garnering support for local cuisine from across the socio-economic spectrum. As a site of research, these restaurants can be seen as potential innovators for managing the consequences of industrialization on food and agriculture, facilitating democratic daily practices of food sovereignty.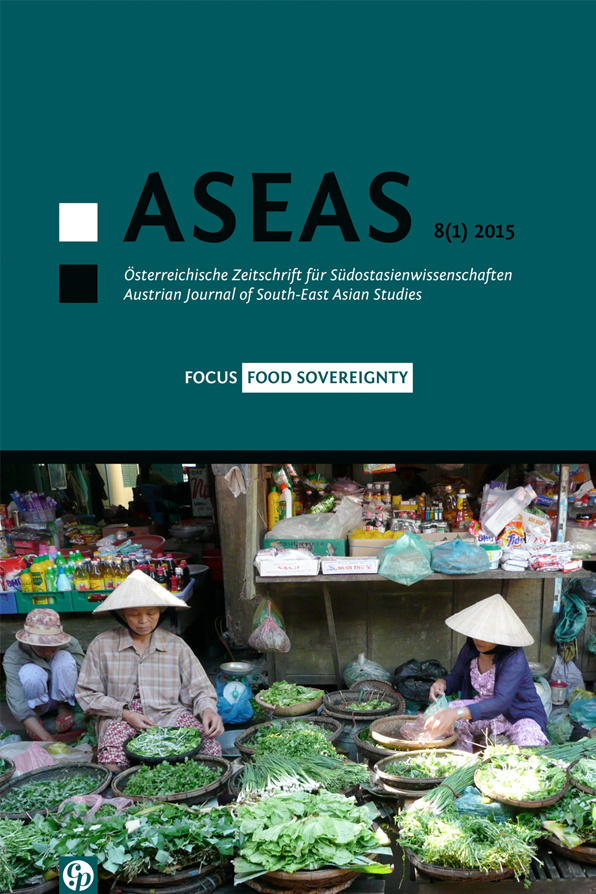 Downloads
Section
Current Research on Southeast Asia
License
Copyright (c) 2015 SEAS – the Society of South-East Asian Studies
This work is licensed under a Creative Commons Attribution-NonCommercial-NoDerivatives 3.0 Unported License.
For all articles published in ASEAS before December 2014 and after July 2022, copyright is retained by the authors. For articles published between January 2015 and June 2022, the Society for South-East Asian Studies (SEAS) is the copyright holder. Articles published in ASEAS before December 2019 are licensed under the following Creative Commons License: Attribution-NonCommercial-NoDerivs 3.0 Unported.  Articles published after that date are licensed under the following Creative Commons License: Attribution-NonCommercial-NoDerivs 4.0 International. In both cases, this means that everybody is free to share (to copy, to distribute, and to transmit the work) under the following conditions:
Attribution — You must give appropriate credit, provide a link to the license, and indicate if changes were made. You may do so in any reasonable manner, but not in any way that suggests the licensor endorses you or your use.

NonCommercial — You may not use the material for commercial purposes.

NoDerivatives — If you remix, transform, or build upon the material, you may not distribute the modified material.