Mimicry of the Legal: Translating de jure Land Formalization Processes Into de facto Local Action in Jambi province, Sumatra
Keywords:
Indonesia, Land Reform, Land Tenure, Mimicry of the Legal, Politics of Scale
Abstract
In Indonesia, as in many other countries of the global South, processes to formalize rights over land have been implemented with the intention to reduce deforestation, decrease poverty and increase tenure security. Literature on de jure processes of land formalization is widely available. There is a gap, however, on the discrepancy of de jure land titling procedures and de facto strategies to legitimize land claims. Led by the theoretical concepts of "law as process" and "politics of scale", this study closes this gap by analyzing the impact of national tenure formalization processes on de facto local patterns of land titling. Using empirical material from 16 villages in Jambi province, we show that the outcomes of the state-led land reforms and land tenure formalization processes are imitated and translated into locally feasible actions. We refer to these translation processes as "mimicry of the legal". The land formalization endeavors fostering mimicry of the legal allow for resource exploitation and rent-seeking behavior.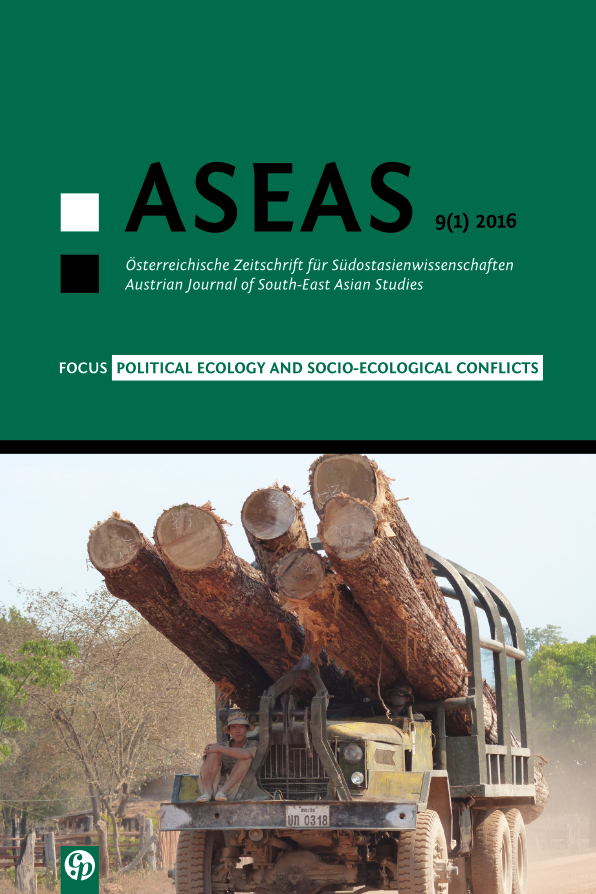 Downloads
Section
Current Research on Southeast Asia
License
Copyright (c) 2016 SEAS – the Society of South-East Asian Studies
This work is licensed under a Creative Commons Attribution-NonCommercial-NoDerivatives 3.0 Unported License.
For all articles published in ASEAS before December 2014 and after July 2022, copyright is retained by the authors. For articles published between January 2015 and June 2022, the Society for South-East Asian Studies (SEAS) is the copyright holder. Articles published in ASEAS before December 2019 are licensed under the following Creative Commons License: Attribution-NonCommercial-NoDerivs 3.0 Unported.  Articles published after that date are licensed under the following Creative Commons License: Attribution-NonCommercial-NoDerivs 4.0 International. In both cases, this means that everybody is free to share (to copy, to distribute, and to transmit the work) under the following conditions:
Attribution — You must give appropriate credit, provide a link to the license, and indicate if changes were made. You may do so in any reasonable manner, but not in any way that suggests the licensor endorses you or your use.

NonCommercial — You may not use the material for commercial purposes.

NoDerivatives — If you remix, transform, or build upon the material, you may not distribute the modified material.