The State of Coal Mining in East Kalimantan: Towards a Political Ecology of Local Stateness
Anna Fünfgeld

Universität Freiburg
Keywords:
Coal Mining, Indonesia, Political Ecology, Practice Theory, State Theory
Abstract
The article aims at expanding political ecology research towards the role and constitution of states by demonstrating how local stateness is negotiated within conflicts over natural resources. It draws on a qualitative field study on the conflict over coal mining in East Kalimantan's capital Samarinda, Indonesia, where certain characteristics of states, such as the monopoly of violence and the rule of law, are being affirmed, altered, or undermined through practices of state and non-state actors alike. These practices do not only challenge state representations, but also reveal the symbolic importance of ideas about the state. The theoretical framework is developed on the basis of Joel S. Migdal's state in society approach together with a later work of Pierre Bourdieu and Philip Abrams' thoughts about the nature of states.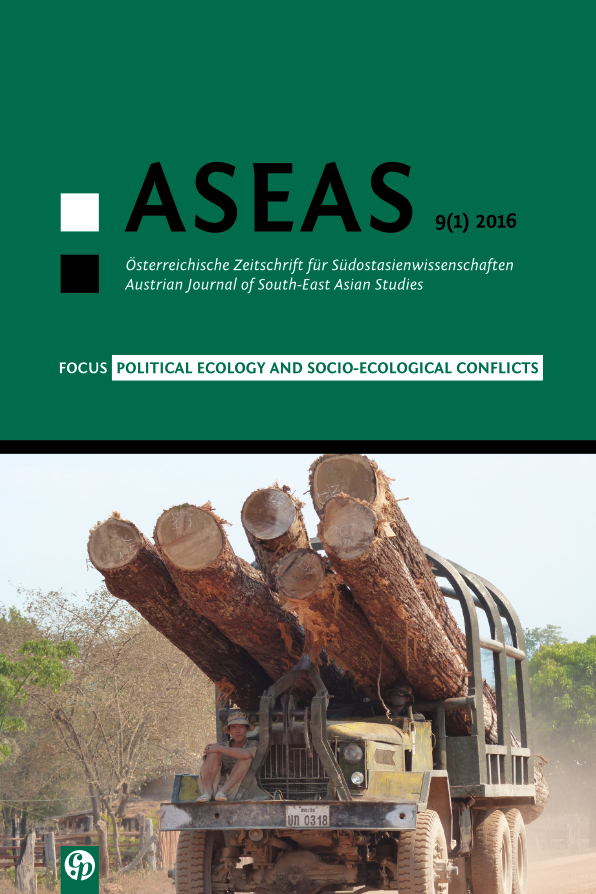 How to Cite
Fünfgeld, A. (2016) "The State of Coal Mining in East Kalimantan: Towards a Political Ecology of Local Stateness", Austrian Journal of South-East Asian Studies, 9(1), pp. 147-162. doi: 10.14764/10.ASEAS-2016.1-9.
Section
Current Research on Southeast Asia