Philanthropy in Southeast Asia: Between Charitable Values, Corporate Interests, and Development Aspirations
Keywords:
Charity, Development, Development Financing, Philanthropy, Southeast Asia
Abstract
This article presents an overview of the evolving state of philanthropy in Southeast Asia, driven by global and local stimuli and shaped by often conflicting notions of charity, development, and business. Despite the lack of a strong enabling environment, new, 'homegrown' foundations and local forms of institutionalized giving continue to emerge. At the same time, changes in the donor landscape and shifts in philanthropic paradigms towards business-like and technocratic approaches affect how development causes are funded. In the process, gaps have begun to appear in how work by civil society organizations on human rights and social justice is funded; this may jeopardize more equitable and inclusive development.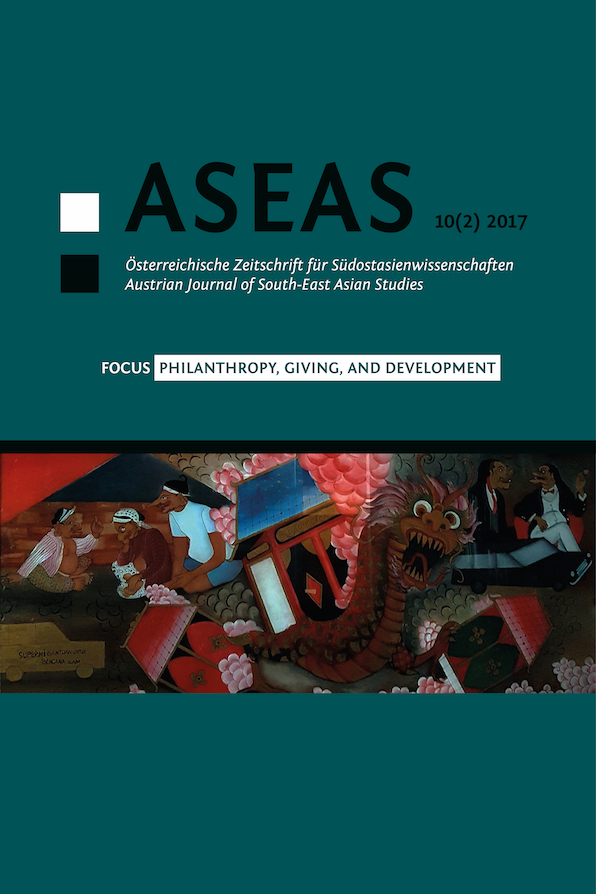 Downloads
How to Cite
Sciortino, R. (2017). Philanthropy in Southeast Asia: Between Charitable Values, Corporate Interests, and Development Aspirations. Austrian Journal of South-East Asian Studies, 10(2), 139–163. https://doi.org/10.14764/10.ASEAS-2017.2-2
Section
Current Research on Southeast Asia