Giving Trends in Myanmar: More Than Merit Making
Keywords:
Charity, Cyclone Nargis, Giving Trends, Merit-Making, Myanmar
Abstract
Myanmar, with a human development index ranking of 145 out of 188 countries (UNDP,2016), has been given the prestigious title as the number one giving nation in the world for three years running (2014-2016) by Charities Aid Foundation, challenging the notion that giving is tied to wealth. Explanations for why this is the case tend to focus on the religious practices of Theravada Buddhism and merit-making. This explanation is only part of the picture, however, and does not account for the similarly high rates of giving by other religious groups in Myanmar or for the failing of other Buddhist nations to equal Myanmar's generosity. I will argue that the low levels of state investment in basic human welfare and the widespread deprivation in the country due to the long years of military rule, coupled with the lack of effective institutions to provide basic social welfare services, are equally strong motivators for charity. At the same time, I will demonstrate that giving trends in Myanmar - even those motivated by compassion or religious duty - area response to immediate needs that are unmet by government or institutional support. For the vast majority of people, reliance on your neighbor is the only available insurance. Such charitable giving rarely extends to philanthropic giving, which addresses systemic and root causes of poverty rather than targeting symptoms. I provide explanations for the high level of charitable giving in Myanmar, looking at everyday examples of giving in Myanmar from both individuals and local businesses and considering the humanitarian disaster of Cyclone Nargis in 2008 as a case example.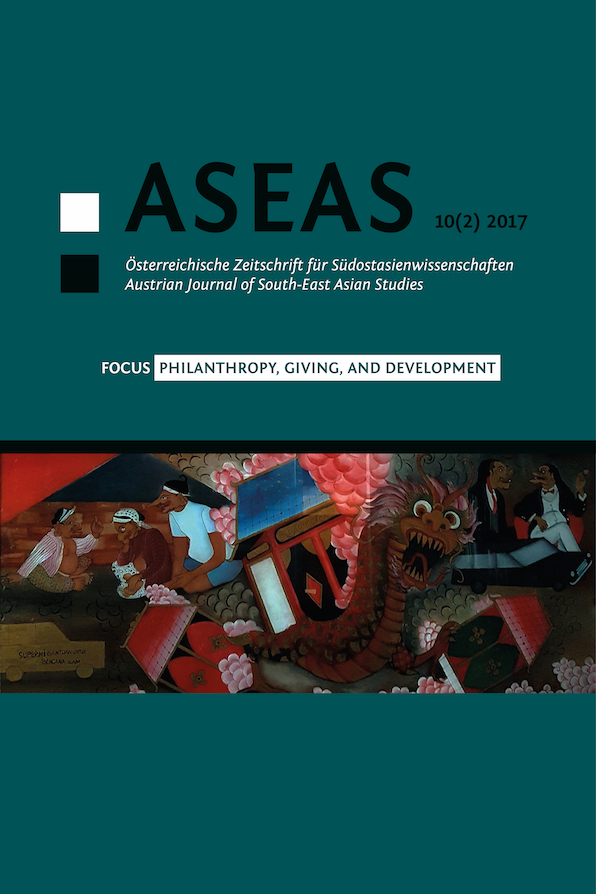 Downloads
How to Cite
Dove, C. (2017). Giving Trends in Myanmar: More Than Merit Making. Austrian Journal of South-East Asian Studies, 10(2), 205–222. https://doi.org/10.14764/10.ASEAS-2017.2-5
Section
Current Research on Southeast Asia