Addressing Unfortunate Wayfarer: Islamic Philanthropy and Indonesian Migrant Workers in Hong Kong
Keywords:
Dompet Dhuafa, Indonesia, Islamic Philanthropy, Migrant Workers, Relief
Abstract
This article analyses how Islamic philanthropy is translated and reiterated in contemporary Indonesia and contextualized in the international arena. It examines the experience of an Islamic philanthropic organization, Dompet Dhuafa (DD), in defining and addressing types of zakat beneficiaries by, among other things, addressing unfortunate Indonesian migrant workers residing in Hong Kong. The effort of DD to expand the types of zakat recipients reflects a new development of Islamic philanthropy activism in Indonesia. There is a substantial change in how zakat is formulated and practiced among Indonesian Muslims in general, and in particular Indonesian migrant workers overseas. Islamic philanthropic organizations, such as DD, have functioned not only as intermediaries between benefactors in Indonesia and Indonesian migrant workers overseas but also as energizers to encourage the zakat practice among fortunate migrant workers to help their unfortunate fellows overseas.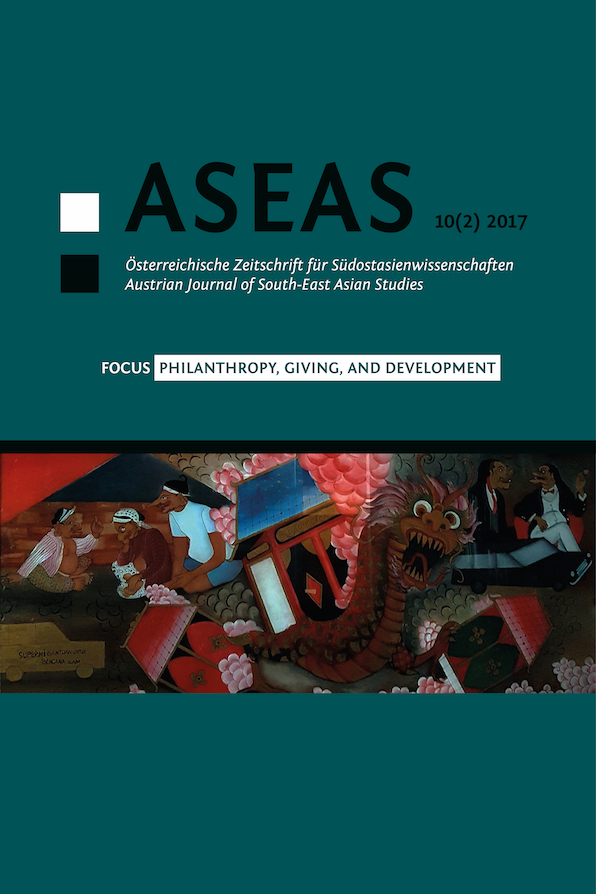 Downloads
How to Cite
Latief, H. (2017). Addressing Unfortunate Wayfarer: Islamic Philanthropy and Indonesian Migrant Workers in Hong Kong. Austrian Journal of South-East Asian Studies, 10(2), 237–255. https://doi.org/10.14764/10.ASEAS-2017.2-7
Section
Current Research on Southeast Asia