The Iron Silk Road and the Iron Fist: Making Sense of the Military Coup D'État in Thailand
Keywords:
Belt-and-Road Initiative, Coup D'État, High-Speed Train, Thailand, World-Systems Theory
Abstract
In May of 2014, the military of Thailand staged a coup and overthrew the democratically elected government of Prime Minister Yingluck Shinawatra. The political divisions in Thailand, which culminated in the coup, as well as the course of events leading to the coup, are difficult to explain via Thai domestic policy and the power relations between Thailand's military, corporate, and civil entities. The divisions can be more clearly revealed when interpreted in the context of the large-scale Chinese project "One Belt, One Road". This ambitious infrastructure project represents an important step in the rise of China to the position of the world's biggest economic power and – drawing on world-systems theory – to the center of a new long accumulation cycle of the global economy. Against this backdrop, it will be argued that developments in Thailand can be interpreted historically as an example of the upheavals in the periphery of China, the new center. The establishment of an autocratic system is, however, not directly attributable to the influence of China, but results from the interplay of internal factors in Thailand.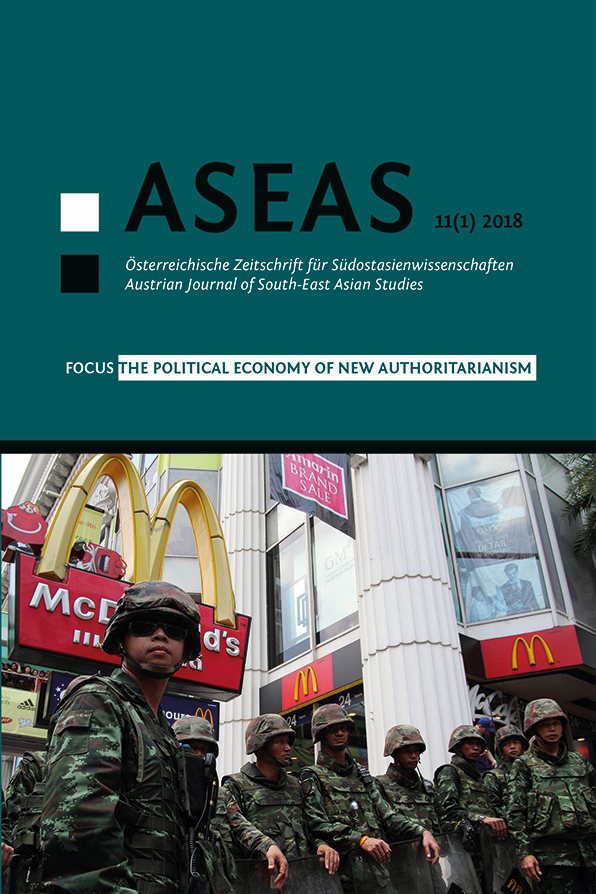 Downloads
Section
Current Research on Southeast Asia
License
Copyright (c) 2018 SEAS – the Society of South-East Asian Studies
This work is licensed under a Creative Commons Attribution-NonCommercial-NoDerivatives 3.0 Unported License.
For all articles published in ASEAS before December 2014 and after July 2022, copyright is retained by the authors. For articles published between January 2015 and June 2022, the Society for South-East Asian Studies (SEAS) is the copyright holder. Articles published in ASEAS before December 2019 are licensed under the following Creative Commons License: Attribution-NonCommercial-NoDerivs 3.0 Unported.  Articles published after that date are licensed under the following Creative Commons License: Attribution-NonCommercial-NoDerivs 4.0 International. In both cases, this means that everybody is free to share (to copy, to distribute, and to transmit the work) under the following conditions:
Attribution — You must give appropriate credit, provide a link to the license, and indicate if changes were made. You may do so in any reasonable manner, but not in any way that suggests the licensor endorses you or your use.

NonCommercial — You may not use the material for commercial purposes.

NoDerivatives — If you remix, transform, or build upon the material, you may not distribute the modified material.