The Institutions of Authoritarian Neoliberalism in Malaysia: A Critical Review of the Development Agendas Under the Regimes of Mahathir, Abdullah, and Najib
Keywords:
Abdullah Badawi, Authoritarian Neoliberalism, Mahathir Mohamad, Malaysia, Najib Razak
Abstract
After toppling the 61-year dominant Barisan Nasional through a historic election victory in May 2018, expectations are high for the new ruling government led by Mahathir Mohamad and the Pakatan Harapan to fulfil their promises for socio-economic reforms and regime change in Malaysia. But what have been the institutions of the prevailing regime that need to be reformed and changed? This article offers a critical review of the evolving development agendas since the 1990s of the successive governments of Mahathir Mohamad, Abdullah Badawi, and Najib Razak, each couched in different catchphrases: Wawasan 2020, Islam Hadhari, and 1Malaysia. A close reading of these programs suggests that their substance articulates two persistent logics: the ruling elite's constant requirement for political stability enforced by a strong state; and, the need to adapt to the demands and opportunities of accumulation in specific phases of Malaysia's capitalist development in the context of globalization. The analysis reveals the attempts at maintaining authoritarian neoliberalism, or a neoliberal economy embedded in an authoritarian polity, as the de facto social regime in contemporary Malaysia. By examining policy documents, speeches, and news reports, the article discloses how this regime had been enunciated or reified in public discourses, policies, and actions of the respective administrations.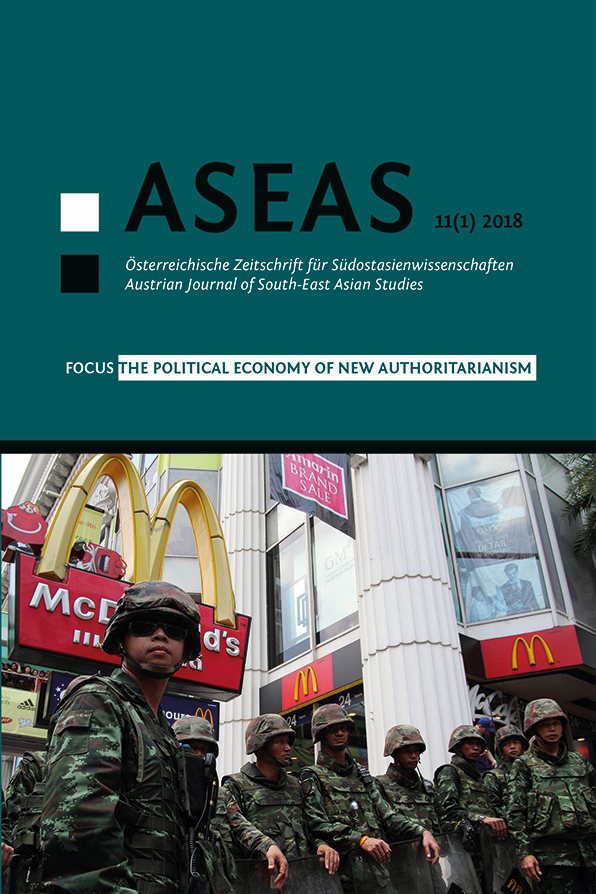 Downloads
How to Cite
Juego, B. (2018). The Institutions of Authoritarian Neoliberalism in Malaysia: A Critical Review of the Development Agendas Under the Regimes of Mahathir, Abdullah, and Najib. Austrian Journal of South-East Asian Studies, 11(1), 53–79. https://doi.org/10.14764/10.ASEAS-2018.1-4
Section
Current Research on Southeast Asia