"The Danger of Intolerant Above-ground, Non-clandestine Organizations is Bigger for Indonesia Than Violent Extremism"
An Interview with Sidney Jones on Religious Extremism, Political Violence and Conflict Dynamics in Indonesia
Keywords:
Conflict Analysis, Conflict Transformation, Indonesia, Radicalization, Violence
Abstract
Sidney Jones is director of the Jakarta-based Institute for Policy Analysis of Conflict (IPAC). From 2002 to 2013, she worked with the International Crisis Group, first as Southeast Asia project director, then from 2007 as senior adviser to the Asia program. Before that she worked for the Ford Foundation, Amnesty International, and Human Rights Watch. She is an expert on security in Southeast Asia, particularly Islamic terrorist move- ments in Indonesia. Jones has analyzed and extensively written on separatist conflicts (Aceh, Papua, Mindanao), communal conflicts (Poso, Moluccas), and ethnic conflict (Kalimantan) in Indonesia. She also has studied Islamic radicalism, producing reports on the Islamist terrorist network Jemaah Islamiyah and its operations in Indonesia and the Philippines, as well as issues of security sector reform and decentralization in Indonesia. This interview was conducted and recorded at IPAC office in Jakarta on 20 August 2019. It focuses on questions of religious extremism, political violence, and conflict dynamics in contemporary Indonesia.
References
Aspinall, E. (2009). Islam and nation: Separatist rebellion in Aceh, Indonesia. Stanford: Stanford University Press.
Bush, R. (2009). Nahdlatul Ulama and the struggle for power within Islam and politics in Indonesia. Singapore: Institute of Southeast Asian Studies.
Human Rights Watch. (2013). In Religion's name: Abuses against religious minorities in Indonesia. Retrieved from https://www.refworld.org/docid/513085c22.html
Institute for Policy Analysis of Conflict. (2018). The West Kalimantan election and the impact of the anti-Ahok campaign. Retrieved from http://file.understandingconflict.org/file/2018/02/Report43_Kalimantan.pdf
Institute for Policy Analysis of Conflict. (2013). What we do. Retrieved from http://www.understandingconflict.org/en/read/index/1/what-we-do
International Crisis Group. (2003). Jemaah Islamiyah in South East Asia: Damaged but still dangerous. Retrieved from https://d2071andvip0wj.cloudfront.net/63-jemaah-islamiyah-in-south-east-asia-damaged-but-still-dangerous.pdf
International Crisis Group. (2002). Al-Qaeda in Southeast Asia: The case of the Ngruki network in Indonesia. Retrieved from https://d2071andvip0wj.cloudfront.net/al-qaeda-in-southeast-asia-the-case-of-the-ngruki-network-in-indonesia.pdf
Osman, M. N. M. (2018). Hizbut Tahrir Indonesia and political Islam: Identity, ideology and religio-political mobilization. London: Routledge.
Pamungkas, C. (2017). The campaign of Papua Peace Network for Papua Peace Land. Jurnal Ilmu Sosial dan Ilmu Politik, 21(2), 147-159.
Ronika, R., Syamsuddin, M., & Kuswanjono, A. (2019). Religiosity value as Indonesian nationalism (Study of Nahdlatul Ulama multipurpose Ansor brigade). Research, Society and Development, 8(7), 44871156.
Schulze, K. E. (2017). The "ethnic" in Indonesia's communal conflicts: Violence in Ambon, Poso, and Sambas. Ethnic and Racial Studies, 40(12), 2096-2114.
Seto, A. (2019). Islamist buzzers: Message flooding, offline outreach, and astroturfing. Austrian Journal of South-East Asian Studies, 12(2), 187-208.
Sloan, S., Campbell, M. J., Alamgir, M., Engert, J., Ishida, F. Y., Senn, N., ... & Laurance, W. F. (2019). Hidden challenges for conservation and development along the Trans-Papuan economic corridor. Environmental Science & Policy, 92, 98-106.
Suhartono, M., & Victor, D. (2019, May 22). Violence erupts in Indonesia's capital in wake of presidential election result. The New York Times. Retrieved from https://www.nytimes.com/2019/05/22/world/asia/indonesia-election-riots.html
Widjojo, M.S. (2008). Papua road map. Inside Indonesia, 94, October-December. Retrieved from https:// www.insideindonesia.org/papua-road-map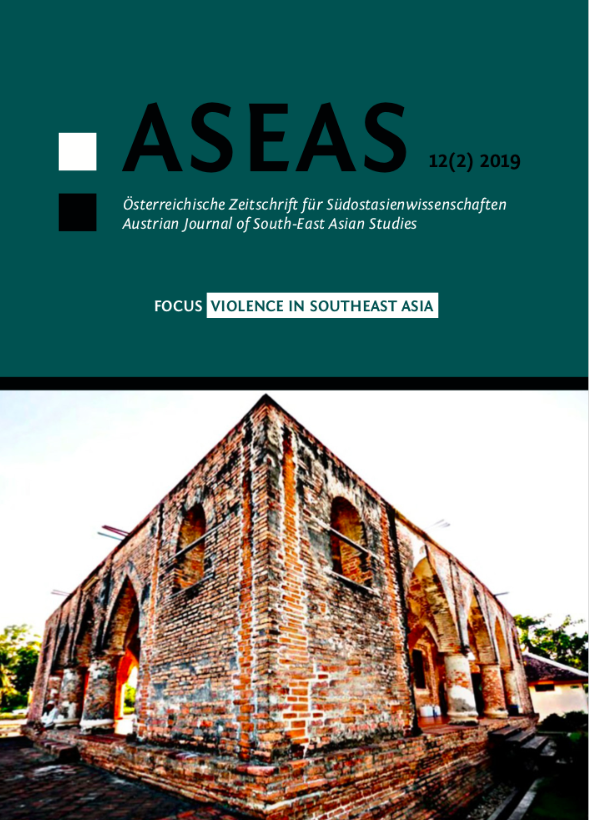 Downloads
How to Cite
Stange, G. (2019). "The Danger of Intolerant Above-ground, Non-clandestine Organizations is Bigger for Indonesia Than Violent Extremism": An Interview with Sidney Jones on Religious Extremism, Political Violence and Conflict Dynamics in Indonesia. Austrian Journal of South-East Asian Studies, 12(2), 267–274. https://doi.org/10.14764/10.ASEAS-0025