Multi-Lingual and Multicultural Education in Globalizing Southeast Asia
References
Aguilar, F. (2017). Towards community formation in Southeast Asia? History education, ASEAN and the nation-state. Sojourn: Journal of Social Issues in Southeast Asia, 32(1), 137-169.
Albury, N.J. (2021). Language policy, ideological clarification and theory of mind. Language Policy, 20, 193-214.
Arphattananon, T. (2011). The shift on policy of language of instruction in schools in three southernmost provinces of Thailand. Pertanika Journal of Social Sciences and Humanities, 19(1), 113-122.
Baker, K., & Phongpaichit, P. (2005). A history of Thailand. Cambridge University Press.
Clarke, G. (2001). From ethnocide to ethnodevelopment? Ethnic minorities and indigenous people in Southeast Asia. Third World Quarterly, 22(3), 413-436.
Freire, P. (2014). The pedagogy of the oppressed. Bloomsbury Academic.
Gooch, L. (2009, July 8). Malaysia ends use of English in Science and Math teaching. The New York Times. https://www.nytimes.com/2009/07/09/world/asia/09iht-malay.html
Gradin, C. (2016). Poverty and ethnicity in Asian countries. ADBI Working Paper 624. Asian Development Bank Institute.
He, B., & Kymlicka, W. (2005). Introduction. In W. Kymlicka & B. He. (Eds.), Multiculturalism in Asia (pp. 1-21). Oxford University Press.
Ibrahim, R. (2007). Multiculturalism and education in Malaysia. Culture and Religion, 8(2), 155-167.
Ooi Keat, Gin & Grabowsy, V. (2017). Introduction. In Ooi Keat Gin & V. Grabowsky (Eds.), Ethnic and religious identities and integration in Southeast Asia (pp. 1-27). Silkworm Books.
Sattayanurak, S. (2016). Prawatsart Ratthai Lae Sangkom Thai: Krobkrua Chumchon Chiiwit Saamanchon Kwamsongjam Lae Attaluktaang Chartphan [History of the Thai state and Thai society: Family, community, lives of the ordinary, memories and ethnic identities]. Chiang Mai University Press.
Trupp, A., & Dolezal, C. (2020). Tourism and the sustainable development goals in Southeast Asia. Austrian Journal of South-East Asian Studies, 13(1), 1-16.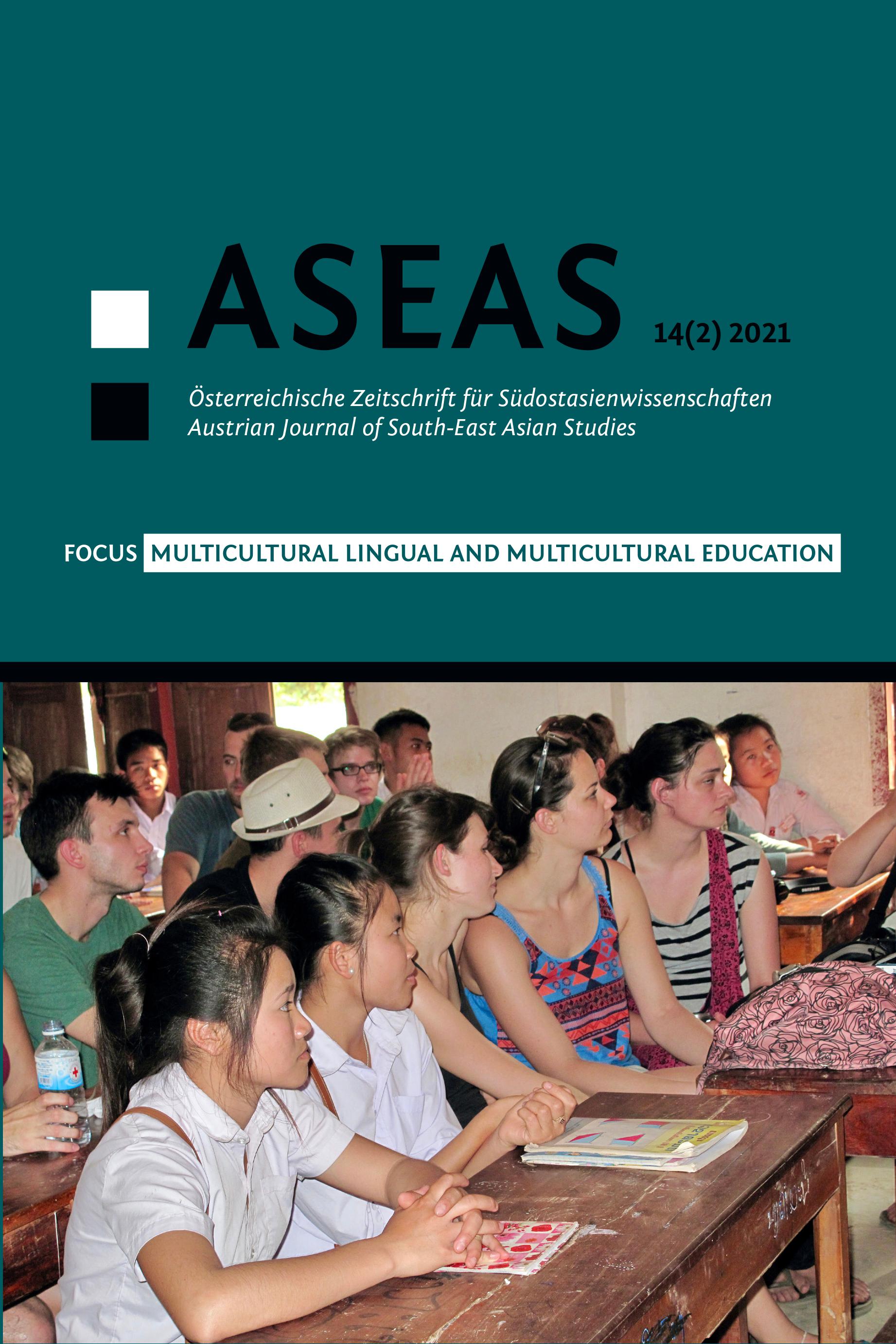 Downloads
How to Cite
Arphattananon, T. (2021). Multi-Lingual and Multicultural Education in Globalizing Southeast Asia. Advances in Southeast Asian Studies, 14(2), 149–153. https://doi.org/10.14764/10.ASEAS-0064
License
Copyright (c) 2021 Society for South-East Asian Studies (SEAS)
This work is licensed under a Creative Commons Attribution-NonCommercial-NoDerivatives 4.0 International License.
Articles published in ASEAS before December 2019 are licensed under the following Creative Commons License: Attribution-NonCommercial-NoDerivs 3.0 Unported.  Articles published after that date are licensed under the following Creative Commons License: Attribution-NonCommercial-NoDerivs 4.0 International. Authors do NOT have to pay APC (Article Processing Charge) in order for their article to be published open access under the above mentioned license.